Research article

Open Access
Early evolution of the biotin-dependent carboxylase family
BMC Evolutionary Biology
2011
11:232
Received: 4 March 2011
Accepted: 9 August 2011
Published: 9 August 2011
Abstract
Background
Biotin-dependent carboxylases are a diverse family of carboxylating enzymes widespread in the three domains of life, and thus thought to be very ancient. This family includes enzymes that carboxylate acetyl-CoA, propionyl-CoA, methylcrotonyl-CoA, geranyl-CoA, acyl-CoA, pyruvate and urea. They share a common catalytic mechanism involving a biotin carboxylase domain, which fixes a CO2 molecule on a biotin carboxyl carrier peptide, and a carboxyl transferase domain, which transfers the CO2 moiety to the specific substrate of each enzyme. Despite this overall similarity, biotin-dependent carboxylases from the three domains of life carrying their reaction on different substrates adopt very diverse protein domain arrangements. This has made difficult the resolution of their evolutionary history up to now.
Results
Taking advantage of the availability of a large amount of genomic data, we have carried out phylogenomic analyses to get new insights on the ancient evolution of the biotin-dependent carboxylases. This allowed us to infer the set of enzymes present in the last common ancestor of each domain of life and in the last common ancestor of all living organisms (the cenancestor). Our results suggest that the last common archaeal ancestor had two biotin-dependent carboxylases, whereas the last common bacterial ancestor had three. One of these biotin-dependent carboxylases ancestral to Bacteria most likely belonged to a large family, the CoA-bearing-substrate carboxylases, that we define here according to protein domain composition and phylogenetic analysis. Eukaryotes most likely acquired their biotin-dependent carboxylases through the mitochondrial and plastid endosymbioses as well as from other unknown bacterial donors. Finally, phylogenetic analyses support previous suggestions about the existence of an ancient bifunctional biotin-protein ligase bound to a regulatory transcription factor.
Conclusions
The most parsimonious scenario for the early evolution of the biotin-dependent carboxylases, supported by the study of protein domain composition and phylogenomic analyses, entails that the cenancestor possessed two different carboxylases able to carry out the specific carboxylation of pyruvate and the non-specific carboxylation of several CoA-bearing substrates, respectively. These enzymes may have been able to participate in very diverse metabolic pathways in the cenancestor, such as in ancestral versions of fatty acid biosynthesis, anaplerosis, gluconeogenesis and the autotrophic fixation of CO2.
Keywords
Horizontal Gene TransferHorizontal Gene Transfer EventArchaeal SequenceBiotin CarboxylaseBiotin Carboxyl Carrier Protein
Background
Biotin-dependent carboxylases are a group of enzymes present in the three domains of life (Archaea, Bacteria and Eucarya) able to catalyze the fixation of CO
2
on different specific substrates. They participate in many essential metabolic functions as diverse as the autotrophic fixation of CO
2
, the biosynthesis and degradation of fatty acids, the gluconeogenesis, the anaplerotic production of oxaloacetate or the degradation of some amino acids [
1
–
10
]. These enzymes belong to the larger biotin-enzyme family that also contains some biotin-dependent decarboxylases and transcarboxylases [
11
]. Members of the biotin-enzyme family share functional domains and reaction mechanisms and are characterized by their dependence on covalently bound biotin as a cofactor. Biotin, also called vitamin H, is a prosthetic group made up of a valerate side chain attached to a bicyclic ring consisting of one ureido and one thiophan rings (Figure
1
). In this work, we focus on the evolution of the biotin-dependent carboxylases.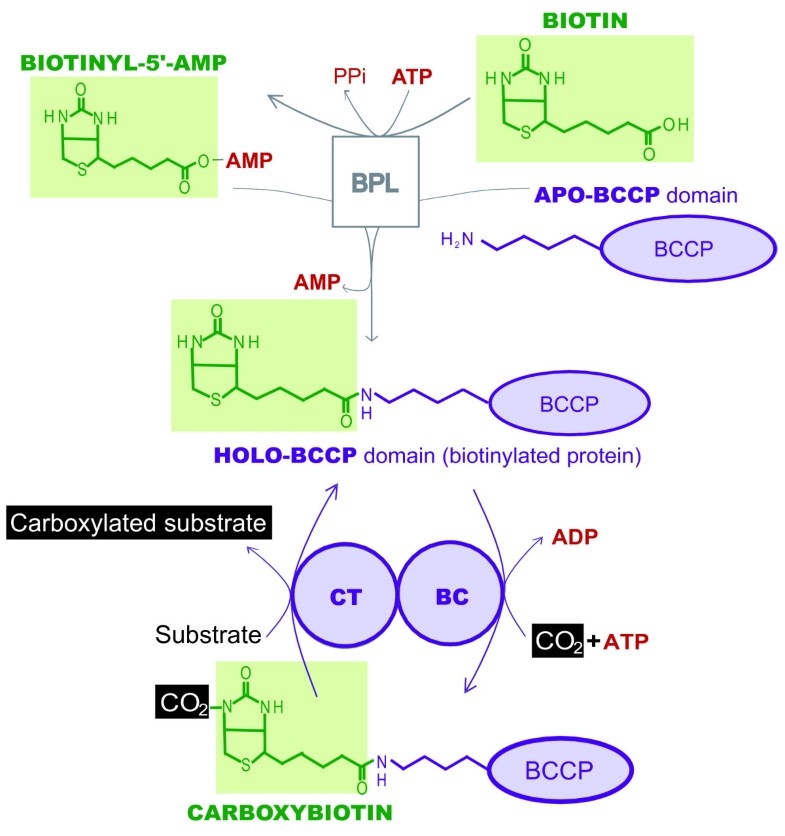 The biotin-dependent carboxylase family includes the acetyl-CoA carboxylases, the propionyl-CoA carboxylases, the methylcrotonyl-CoA carboxylases, the geranyl-CoA carboxylases, the acyl-CoA carboxylases, the pyruvate carboxylases and the urea carboxylases. They share a common catalytic mechanism and three functional components: a biotin carboxyl carrier protein (BCCP), a biotin carboxylase (BC) domain and a carboxyl transferase (CT) domain [11]. BCCP is the biotinylated element, which is also shared with the decarboxylases and transcarboxylases of the large biotin-enzyme family. BC catalyzes the ATP-dependent fixation of CO2 to the BCCP-bound biotin, and thus the intermediate formation of carboxybiotin. Finally, CT binds the carboxyl group from the carboxybiotin to the specific substrate of each carboxylase (Figure 1).
Before the carboxylation reaction can occur, an independent protein called biotin protein ligase (BPL, also named holocarboxylase synthetase or BirA; E.C. 6.3.4.9; 6.3.4.10; 6.3.4.11; 6.3.4.15) is in charge of the post-transcriptionally attachment of the biotin to a specific conserved lysine residue of the BCCP [
12
,
13
]. BPL first adenylates the carboxyl group of the valerate chain of the biotin molecule, then the resulting biotinyl-5'-AMP molecule is used to transfer the biotin moiety to the ε-amino group of the lysine residue of BCCP [
14
,
15
]. As each carboxylase has its own BCCP counterpart, it was first thought that each BCCP had one specific BPL devoted to its biotinylation, but subsequent studies have shown that each organism has usually only one BPL protein able to biotinylate the BCCP counterparts from different carboxylases. BPL has even been reported to be able to biotinylate heterologous BCCP elements from other species [
12
,
16
,
17
]. Four types of BPL have been described (Figure
2A
, [
18
]). In prokaryotes, there is one monofunctional sequence bearing only the BPL function [
14
] and one bifunctional BPL-regulatory gene (BirA). The latter is known to carry, in addition to the BPL catalytic domain, an N-terminus regulatory domain that participates in the transcriptional control of genes involved in biotin biosynthesis [
19
,
20
]. Structural comparison and meticulous similarity searches have shown that the BPL biotinylating domain is related to diverse enzymes, including lipoyl protein ligases (LPLs), asparagine synthetases and class II aminoacyl tRNA synthetases [
21
]. The BPL catalytic domain and the regulatory N-terminal motif have been proposed to have emerged and fused before the radiation of Archaea and Bacteria [
22
–
24
]. Concerning the eukaryotes, the N-terminal halves of their BPLs are very diverse: plant BPL contains an N-terminal domain of unknown function and, in contrast with the bacterial N-terminal motif, unable to control the expression of biotin biosynthesis genes [
25
]. In
Saccharomyces cerevisiae
, a longer N-terminal domain interacting with biotin appears to be involved in the regulation of certain genes (biotin sensing, see Pirner
et al
. [
26
]).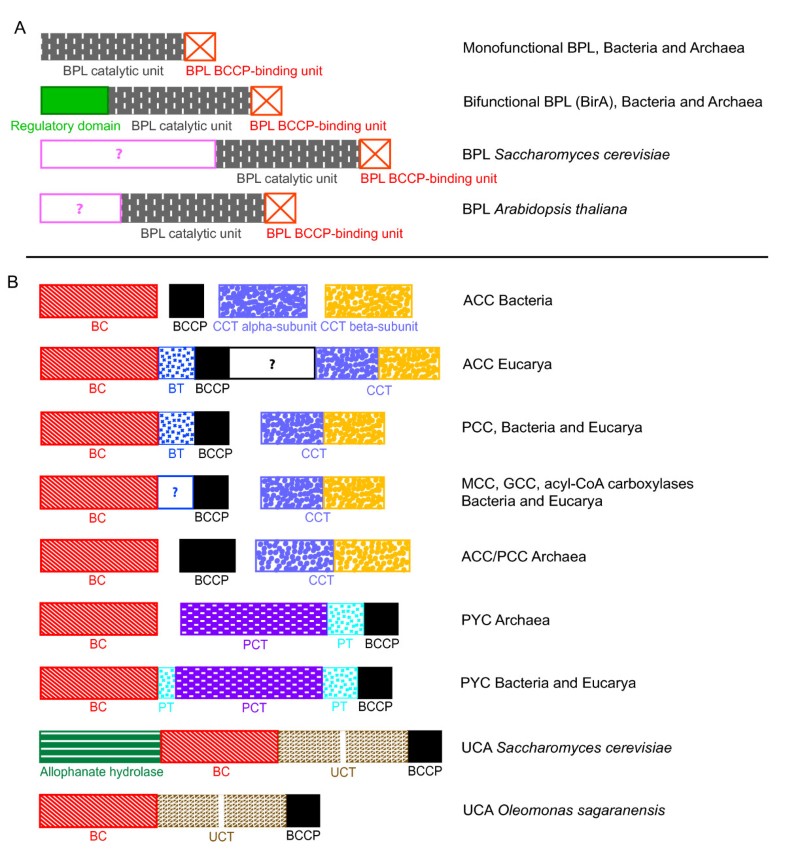 As previously mentioned, the BCCP domain is characteristic of all the biotin enzyme family, including the decarboxylases and transcarboxylases, whereas the BC domain is limited to the carboxylases. The CT domain gives its substrate specificity to each biotin-dependent carboxylase. Although all biotin-dependent carboxylases bear these three types of protein domains, their arrangement is unequal among different carboxylases and from one domain of life to another. This arrangement will be briefly summarized below (Figure 2B).
Acetyl-CoA carboxylases (ACC; E.C. 6.4.1.2) catalyze the carboxylation of acetyl-CoA to malonyl-CoA in different metabolic processes, such as the first step of fatty acid synthesis or the autotrophic 3-hydroxyproprionate pathway. In Escherichia coli, which bears a model bacterial ACC, the three protein domains are encoded by four independent peptides: one BC subunit, one BCCP peptide and two distantly related CT subunits interacting together to ensure the carboxyl transfer function [8]. It is noteworthy that these two distantly related CT subunits are part of a single peptide in all the other biotin-dependent carboxylases bearing them, so here we will refer to the fused peptide as a CT domain and explicitly point to the separation of the CT subunits in bacterial ACC sequences when required. In eukaryotes, the three domains are encoded in a single polypeptide arranged as BC-BCCP-CT from the N- to the C-terminus [1]. Propionyl-CoA carboxylases (PCC; E.C 6.4.1.3) attach one carboxyl group to the propionyl-CoA to synthesize the methylmalonyl-CoA taking part in the 3-hydroxypropionate pathway of CO2 fixation, in the synthesis of polyketides and in the degradation of fatty acids and branched-chain amino acids. In bacteria and eukaryotes, PCCs are made up of two polypeptides: a BC-BCCP α-subunit, and a CT-bearing β-subunit. Recent work has shown an additional domain (BC-CT interaction domain, called BT) involved in subunit interactions and located between the BC and the BCCP motifs in the α-subunit [27]. Archaea were thought for a long time to lack ACC and PCC since fatty acids were unknown in this domain of life. Nevertheless, fatty acid synthesis and degradation has been recently detected in archaea and one biotin-dependent carboxylase, using both acetyl-CoA and propionyl-CoA as substrates, has been described in the 3-hydroxyproprionate/4-hydroxybutyrate pathway of CO2 fixation of the archaeal order Sulfolobales [6, 28, 29]. This archaeal ACC/PCC is composed of three different types of subunits bearing respectively BC, BCCP and CT domains.
The 3-methylcrotonyl-CoA carboxylase (MCC; E.C. 6.4.1.4) and the geranyl-CoA carboxylase (GCC; E.C. 6.4.1.5) synthesize 3-methylglutaconyl-CoA and γ-carboxygeranyl-CoA by adding one CO2 molecule to their respective substrates. MCC is involved in the breakdown of leucine and acyclic monoterpenes of the citronellol family, whereas GCC appears to participate only in the latter catabolism [9]. While MCC activity has been demonstrated in bacteria and eukaryotes, GCC has only been observed in bacteria. GCC has also been shown to use substrates different from geranyl-CoA [30]. Both MCC and GCC are composed of BC/BCCP-containing α-subunits and CT-bearing β-subunits.
The acyl-CoA carboxylases are a heterogeneous group of enzymes involved in the same pathways as ACC and PCC and also carrying out important functions in the synthesis of secondary metabolites in bacteria. Acyl-CoA carboxylases are basically made up of two types of subunits, the first bearing the BC and the BCCP domains and the second carrying the CT function [7]. As previously shown, this structure is also shared with PCCs, MCCs and GCCs. Indeed, acyl-CoA carboxylases are known to carboxylate acetyl-CoA, propionyl-CoA or butyryl-CoA and, very often, several of these substrates. These promiscuous acyl-CoA carboxylases have been reported in Actinomycetes and Delta-proteobacteria [7, 31, 32]. Such metabolic promiscuity has led to some confusion in the literature. In the one hand, some authors sometimes consider acyl-CoA carboxylases as PCCs or ACCs according to their preferential substrate, regardless of their possible promiscuous nature or origin [7, 31, 32]. Moreover, these enzymes can easily change their favorite substrate during evolution, as illustrated by studies showing that the replacement of one single precise residue in the CT sequence of one acyl-CoA carboxylase is enough to shift its substrate specificity [33, 34]. In the other hand, most comparative studies on ACC, PCC and MCC activities very often consider each function as being characteristic of one particular carboxylase, ignoring the potential promiscuity typical of these enzymes [11]. Although such functional classifications can be useful to study enzymes within particular metabolic pathways, they may lead to confusion between the well-characterized one-substrate specific carboxylases and promiscuous enzymes carrying out one particular function in a given metabolic context. As an alternative, a phylogenetic approach can complement the functional studies to get new insights on the emergence of functions and classification of this family of enzymes.
Pyruvate carboxylases (PYC; E.C. 6.4.1.1) catalyze the carboxylation of pyruvate to oxaloacetate, an important function for anaplerosis, gluconeogenesis and fatty acid synthesis. A significant feature concerning the protein domain composition of PYC is the homology of the BC and BCCP domains with those of the rest of biotin-dependent carboxylases, in contrast with the independent origin of the CT element. Most bacteria and eukaryotes bear a polypeptidic PYC carrying the BC domain in its N-terminal end, the CT in the central part and the BCCP domain in the C-terminus [35]. Recent studies have discovered a domain situated between the BC and CT domains and between the CT and BCCP domains in Rhizobium etli [36–38]. The new domain, referred to as the PYC tetramerization (PT) or allosteric domain, would play a role in tetramerization of PYC subunits and allosteric regulation of PYC by acetyl-CoA. Finally, archaea and some bacteria contain an acetyl-CoA-independent PYC with two different subunits instead of one polypeptide: the BC α-subunit and the CT/BCCP β-subunit [39–42].
Urea carboxylases (UCA; E.C. 6.3.4.6) fix a carboxyl group in urea to form allophanate, an intermediate product of a two-steps process of urea degradation. Allophanate is subsequently hydrolyzed by the allophanate hydrolase to ammonia and CO2. While in Saccharomyces cerevisiae the allophanate hydrolase and the urea carboxylase are fused within the same polypeptide [43], in the alpha-proteobacterium Oleomonas sagaranensis and green algae these two functions are carried out by two independent enzymes homologous to the unique S. cerevisiae peptide [44]. The O. sagaranensis urea carboxylase is a polypeptide by itself containing a BC domain in its N-terminal end, a BCCP domain in its C-terminus and a predicted central CT domain non-homologous to the previously cited CTs.
These examples illustrate the very complex modular architecture of the biotin-dependent carboxylases, which has been studied for long [45]. This family has been proposed to have evolved by duplication, fusion and recombination events from small monofunctional precursors to produce the modern multifunctional polypeptides [11, 45]. The ubiquity of the biotin-dependent carboxylases in the three domains of life and the diversification of their elements have been pointed as arguments for the ancient origin of this family [46, 47]. However, hitherto the phylogenetic analyses of biotin-dependent carboxylases have been focused in relatively restricted groups and functions [9, 32] or have been carried out with a very limited taxonomic sampling [4, 47]. In this work, we attempt to reconstruct the early evolution of the biotin-dependent carboxylases using a global phylogenomic approach in a wide range of taxonomic groups. Our results support previous hypothesis concerning the modular emergence of enzymes of the biotin carboxylase family but also challenge current views on the relationships among different groups of enzymes, especially those related to the acyl-CoA carboxylases. On the basis of phylogenetic evidence, we have tried to define the ancestral content of enzymes from the biotin-dependent carboxylase family in the respective last common ancestor of each domain of life and in the last common ancestor of all living organisms (the cenancestor).
Results
As mentioned above, the polypeptide composition can largely vary from one biotin-dependent carboxylase to another. Therefore, we have studied each functional protein domain separately. Unlike the biotin carboxylase (BC) domain, which is shared among all the biotin-dependent carboxylases, three non-homologous carboxyl transferase (CT) domains exist in these enzymes: one is common to the ACC, all the PCC, the MCC, the GCC and the acyl-CoA carboxylases and will be called here the CoA-substrate related carboxyl transferase (CCT); another is characteristic of the PYC and will be called the pyruvate carboxylase carboxyl transferase (PCT); finally, UCAs seem to use their own CT (UCT).
Discussion
The large distribution of biotin-dependent carboxylases and their remarkable mechanistic conservation has been interpreted as an evidence for the ancient origin of this enzyme family [46, 47]. However, phylogenetic analyses of biotin-dependent carboxylases carried so far were either restricted to some functions and taxonomic groups or used very limited taxonomic sampling [4, 9, 32, 47]. For the first time, here we studied the early evolution of the biotin-dependent carboxylases using a global phylogenomic approach in a wide range of taxonomic groups. Our results support the ancient origin of this family and give new insights on the evolutionary history of these protein domains and enzymes. In particular, we have observed that the domains of life are different with regard to the importance of the biotin-dependent carboxylases in their metabolism and evolution. Consequently, we will first discuss the evolution of these enzymes in each domain of life, prior to conclude on how our results provide information about the biotin-dependent carboxylase content in the cenancestor.
Conclusions
To summarize, our data support that ACC, XCC and PYC are ancestral to Bacteria. MCC, PCC, GCC and UCA emerged subsequently from XCC in the bacterial lineage. Eukaryotes most likely inherited their biotin-dependent carboxylases through different HGTs from bacteria: MCC and PCC are related to alphaproteobacterial homologues and therefore seem to have been acquired through the mitochondrial endosymbiosis, whereas plant bacterial-like ACC is related to cyanobacterial homologues and thus of probable plastid origin. The remaining eukaryotic enzymes (ACC, PYC and UCA) have likely been also transferred from bacteria but their donors are unknown. The last common archaeal ancestor likely used a promiscuous BC subunit with PCT and CCT subunits to ensure PYC and ACC/PCC functions, respectively. Finally, the cenancestor likely bore a BirA gene able to biotinylate BCCPs. We used these results to infer the set of biotin-dependent carboxylases present in the cenancestor. It is important to note here that the precise nature of the cenancestor remains debated, in particular whether it was a single organism or a community of more or less related different organisms experiencing a high frequency of HGT [61, 62]. When we infer that a particular biotin-dependent carboxylase may have been ancestral, this is applicable to both views.
Since eukaryotes obtained their biotin-dependent carboxylases from bacteria, we ignore them for the discussion concerning the cenancestor complement and we focus specifically on the respective ancestors of Archaea and Bacteria as intermediate steps between present-day species and the cenancestor. The components of biotin-dependent carboxylases have been duplicated, recombined and fused many times across evolution and, thus, many different evolutionary scenarios can be proposed. As it would be too long to discuss all of them, we will focus only on the one that we consider to be the most parsimonious (for examples of other scenarios see additional file 3).
In this hypothesis (Figure
8
), the cenancestor would have had a relatively simple biotin-dependent carboxylase content similar to that of modern archaea: one promiscuous BC-bearing subunit would have interacted with a PCT-PT-BCCP subunit to catalyze the PYC function and also with independent BCCP and CCT subunits to carry out the carboxylation of CoA-substrates. Ancient archaea would have inherited, conserved and adapted this content to their low biotinylating needs, keeping one PYC and one ACC-PCC, either conserved or lost across subsequent evolution of the different archaeal phyla. In the bacterial lineage, the duplication of the BC domain allowed the emergence of two different biotin-dependent carboxylases, a polypeptidic PYC and one ancient CoA-substrate carboxylase made up of three subunits. The polypeptidic PYC was vertically inherited in bacteria whereas a duplication of the three-subunit CoA-substrate carboxylase took place before the last common bacterial ancestor. One of the resulting CoA-substrate carboxylases had its CCT subunit split in two parts that became the two CCT subunits in the bacterial ACCs. In the other three-subunit enzyme there was a fusion between the BC and BCCP domains to give rise to an ancestral promiscuous XCC. Later duplications and subfunctionalizations lead to the emergence of the very diverse XCC family that we know in contemporary bacteria.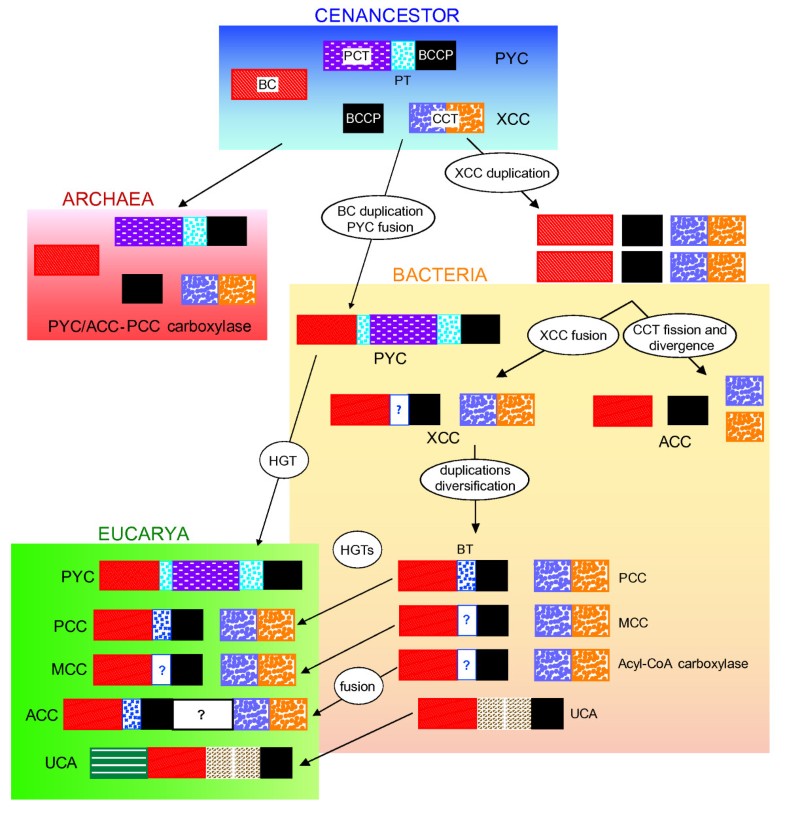 A strong point of this scenario is its relative simplicity, relying on the general assumption of aggregative peptide domain architecture as a major force in protein evolution [63]. Noteworthy, this hypothesis assumes the independent emergence of the PT (ancient PYC) domain and the BT (bacterial XCC) domain. Thus, a convergent evolution has to be invoked to explain BT and PT structural resemblances. Despite that little is known concerning the characteristics and conservation of the BT/PT domains, their shared structure consisting of a conserved helix and several β-strands seems simple enough to hypothesize that it could have emerged twice independently and their conserved position between the BC and the BCCP domains could be the result of structural constraints related to their common subunit-interaction roles.
Although some other scenarios could be proposed based on the results of our phylogenetic and protein domain composition analyses, all of them support the presence of a relatively complex biotin-dependent carboxylase complement in the cenancestor. It would have been able to carboxylate the pyruvate and several CoA-linked substrates. Contemporary biotin-dependent carboxylases contribute to very diverse major biological functions, such as fatty acid biosynthesis, anaplerosis, gluconeogenesis, and autotrophic CO2 fixation. Therefore, identifying the precise activity of the ancient biotin-dependent carboxylases proposed to have been present in the cenancestor is a very difficult question. Phylogenetic analyses alone do not provide enough information to clarify this issue. A promising approach would be the bioinformatic inference of the sequences of the ancestral enzymes to synthesize them in order to characterize their activity in detail (what is often called "enzyme resurrection" [64–66]). That would be particularly interesting to check for potential activities involved in fatty acid biosynthesis or autotrophic CO2 fixation since the presence of these metabolic pathways in the cenancestor remains a hotly debated question [67–70].
Methods
Sequence retrieval and alignment
For each domain of life for which sequence data was available, we retrieved one representative of each of the different biotin-dependent carboxylases and BPL/BirA enzymes from the KEGG database (http://www.genome.jp/kegg) to be used as seeds for further similarity searches. Since some biotin-dependent carboxylases were absent from this database, we completed with archaeal ACC/PCC [29], bacterial GCC [9], one bacterial UCA [44] and one proteobacterial ODC [60] sequence obtained from GenBank (http://0-www.ncbi.nlm.nih.gov.brum.beds.ac.uk/Genbank). Similarity searches with BLASTp [71] were done with the well-characterized protein domains contained in these representative sequences as queries against their respective domain of life. In cases where a particular enzyme was missing in KEGG for one domain of life, we used sequences from the other domains as queries. Similarity searches in archaea and bacteria were done against a list of completely sequenced genomes available in GenBank (298 bacteria and 55 archaea, additional file 4). In eukaryotes, all searches were done against the complete non-redundant (nr) eukaryote-annotated GenBank database.
Sequences for each protein domain found by these searches in the three domains of life were aligned with Muscle 3.6 [72] or MAFFT v6.814c-b [73]. Alignments were edited with the program ED of the MUST package [74] and redundant and partial sequences were removed at this step. Ambiguously aligned regions were removed prior to phylogenetic analyses using the NET program from the MUST package. Alignments are available in Nexus format as additional files 5, 6, 7, 8 and 9. Preliminary secondary structure searches on MCC, GCC, PYC, XCC and accE (see results) were carried out using APSSP (Advanced Protein Secondary Structure Prediction Server, http://imtech.res.in/raghava/apssp/) and GOR4 [75].
Phylogenetic analyses
Preliminary trees based on the complete sequence dataset for each enzyme were constructed by the approximately maximum likelihood approach with FastTree 2.1.3 [76] in order to classify sequences in functional classes with respect to well-characterized proteins (see additional file 1). Neighbor joining trees (NJ) [77] using the MUST package [74] were also reconstructed to select representative sequences with which carrying out more detailed maximum likelihood (ML) and Bayesian inference (BI) phylogenetic analyses. ML tree reconstructions were done with the program TREEFINDER [78] with the LG + Γ model [79] and 4 rate categories, which was selected as the best-fit model for all our datasets by the model selection tool implemented in TREEFINDER [78]. Node support was assessed by 1,000 bootstrap replicates with the same model. BI trees were reconstructed using the program MrBayes v. 3.0b4 [80] with a mixed substitution model and a Γ distribution of substitution rates with 4 categories. Searches were run with 4 chains of 1,000,000 generations for which the first 2,500 generations were discarded as "burn in", trees being sampled every 100 generations. Stabilization of the chain parameters was verified using the program TRACER [81]. Approximately unbiased tests [82] were carried out using the test tool implemented in TREEFINDER [78].
Declarations
Acknowledgements
This work was supported by the interdisciplinary programs OPV (Origine des Planètes et de la Vie) and InTerrVie (Interactions Terre-Vie) of the French Centre National de la Recherche Scientifique and Institut National des Sciences de l'Univers. JL is recipient of a PhD fellowship of the French Research Ministry. We thank Philippe Deschamps for critical reading of the manuscript and four anonymous reviewers for useful suggestions.
Authors' Affiliations
(1)
Unité d'Ecologie, Systématique et Evolution, UMR CNRS 8079, Univ. Paris-Sud, Orsay Cedex, France
Copyright
© Lombard and Moreira; licensee BioMed Central Ltd. 2011
This article is published under license to BioMed Central Ltd. This is an Open Access article distributed under the terms of the Creative Commons Attribution License (http://creativecommons.org/licenses/by/2.0), which permits unrestricted use, distribution, and reproduction in any medium, provided the original work is properly cited.