Research article

Open Access
Palaeoclimatic events, dispersal and migratory losses along the Afro-European axis as drivers of biogeographic distribution in Sylvia warblers
BMC Evolutionary Biology
2011
11:163
Received: 21 December 2010
Accepted: 14 June 2011
Published: 14 June 2011
Abstract
Background
The Old World warbler genus Sylvia has been used extensively as a model system in a variety of ecological, genetic, and morphological studies. The genus is comprised of about 25 species, and 70% of these species have distributions at or near the Mediterranean Sea. This distribution pattern suggests a possible role for the Messinian Salinity Crisis (from 5.96-5.33 Ma) as a driving force in lineage diversification. Other species distributions suggest that Late Miocene to Pliocene Afro-tropical forest dynamics have also been important in the evolution of Sylvia lineages. Using a molecular phylogenetic hypothesis and other methods, we seek to develop a biogeographic hypothesis for Sylvia and to explicitly assess the roles of these climate-driven events.
Results
We present the first strongly supported molecular phylogeny for Sylvia. With one exception, species fall into one of three strongly supported clades: one small clade of species distributed mainly in Africa and Europe, one large clade of species distributed mainly in Africa and Asia, and another large clade with primarily a circum-Mediterranean distribution. Asia is reconstructed as the ancestral area for Sylvia. Long-distance migration is reconstructed as the ancestral character state for the genus, and sedentary behavior subsequently evolved seven times.
Conclusion
Molecular clock calibration suggests that Sylvia arose in the early Miocene and diverged into three main clades by 12.6 Ma. Divergence estimates indicate that the Messinian Salinity Crisis had a minor impact on Sylvia. Instead, over-water dispersals, repeated loss of long-distance migration, and palaeo-climatic events in Africa played primary roles in Sylvia divergence and distribution.
Keywords
Lineage Divergence
Borin
Ancestral Area
Messinian Salinity Crisis
Migratory Loss
Background
The avian genus Sylvia is an Old World warbler lineage comprising roughly 25 species, to include species which were until recently placed in other genera [[1–3]; Parisoma, Pseudalcippe, and Horizhorinus, respectively]. The genus as a whole is distributed from central Eurasia to the tip of South Africa, and about 70% of Sylvia species have ranges that abut, or very nearly abut, the Mediterranean Sea. Individual species' ranges vary from widespread inter-continental migrants such as the Greater Whitethroat (Sylvia communis) to highly restricted island endemics in the Mediterranean Sea and Gulf of Guinea to include the Balearic Warbler (Sylvia balearica) and Dohrn's Thrush-babbler [Sylvia dohrni; [3, 4]].
Because Sylvia species are highly variable in distribution, range sizes and migratory behavior, they have been used extensively as a model system in a variety of studies including morphological evolution, the genetics of migration, the effects of climate change on migration, and the evolution of range size [e.g., [2, 5–10]]. Some of these studies have relied on molecular phylogenies as the basis for understanding evolutionary patterns in the genus [e.g., [2, 9]]. The phylogenies used, however, have generally been based on neighbor-joining algorithms and the resulting phylogenetic hypotheses have lacked support for most relationships. The only study to use molecular tools to investigate the historical biogeography of the genus relied on DNA-DNA hybridization of 20 Sylvia species; results were such that only a few broad-brush biogeographic questions could be addressed [1].
Overall then, a well-resolved phylogeny of
Sylvia
is still lacking. Thus, uncertainty remains when attempting to explain evolutionary patterns within
Sylvia
, and most questions relating to the historical biogeography of the genus remain unaddressed, including when and how most lineage divergences occurred. For example, the high percentage of
Sylvia
species distributed on Mediterranean islands or around the margins of the sea in Europe and North Africa (Figure
1
) suggest that over-water dispersal or vicariance related to sea-level change might have been important factors in lineage diversification. Indeed, the Miocene-Pliocene boundary, at ~5.3 million years ago (Ma), is defined by environmental changes associated with the end of the Messinian Salinity Crisis [MSC; [
11
,
12
]], specifically the re-filling of the Mediterranean Sea following complete desiccation.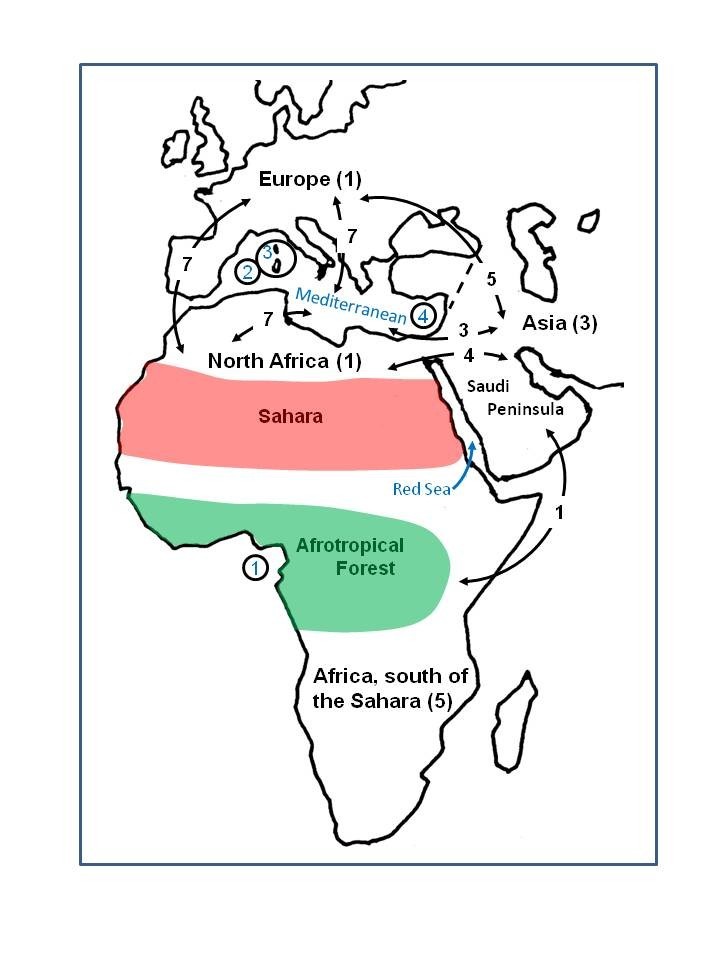 Although lasting for a rather short period of evolutionary time [from 5.96-5.33 Ma; [13]], the desiccation of the Mediterranean would have allowed land-based colonization routes for population expansion to islands (e.g., Sardinia) and between Europe and Africa. Subsequent re-filling of the Mediterranean at the end of the MSC would have created a vicariant barrier to further land-based colonization, thus driving lineage diversification between (now isolated) populations. This same mechanism could explain the trans-Mediterranean distribution of a number of Sylvia species [4]. Alternatively, lineages could have diverged while the Mediterranean was filled, before or after the MSC, suggesting that over-water dispersal might have been important in the evolution of Sylvia, as has been shown in other avian lineages [e.g., [14, 15]]. Molecular clock dates are key to being able to discriminate between vicariance and dispersal hypotheses [e.g., [16]]. Similar questions relating to the possible vicariant impact of the MSC on lineage divergence, or the Mediterranean as a dispersal barrier to island or intercontinental colonization have been addressed for a variety of animal taxa to include butterflies [e.g., [17]], fish [e.g., [18, 19]], mammals [e.g., [20, 21]], and reptiles and amphibians [e.g., [22–24]].
Away from the Mediterranean, distributions of other Sylvia species suggest that both Asian-African and Northeastern (e.g., Ethiopia)-Southern African interchanges were important in the evolution of the genus (Figure 1). There are good palaeo-climatic and palaeo-ecological records of African habitats extending back to the late Miocene, and major shifts in climate had a significant impact on Afrotropical forest expansion and contraction. These forest shifts have been shown to have been important in the evolution of a variety of vertebrate lineages, serving as vicariance barriers for species breeding in arid or montane regions, and as dispersal corridors from Asia for forest adapted species [e.g., [16, 25–31]].
Our aims in this paper were to develop a well-resolved molecular phylogenetic hypothesis of Sylvia warblers, and to use this phylogeny in conjunction with molecular clock calibrations to reconstruct the historical biogeography of the genus. Based on Sylvia distributions, we hypothesize that the Messinian Salinity Crisis will have played a major role in lineage diversification around the Mediterranean Sea. Because most African breeding Sylvia species do not breed in tropical forests, we further hypothesize that expansion and contraction of Afrotropical forests will have played a role in lineage diversification between northern and southern African species. In assessing these hypotheses, we also assess the possible role that changes in migratory habit might have played in the evolution of Sylvia distributions.
Results
Sylvia phylogeny
We analyzed 1040 basepairs (bp) from the ND2 gene, and 999 bp from the cyt-
b
gene, for a total of 2039 bp. Given the lack of alignment problems (no insertions or deletions) and stop codons, the genes amplified were most likely of mitochondrial origin. Within our core clade of
Sylvia
(Figure
2
) there were 546 variable sites (434 parsimony informative) in the ND2 data and 398 variable sites (341 parsimony informative) in the cyt-
b
data. Mean nucleotide frequency for ND2 was A = 31.2%, C = 35.7%, G = 9.5%, T = 23.6%, with generally similar values for cyt-
b
(26.4%, 35.2%, 13.6%, 24.8%).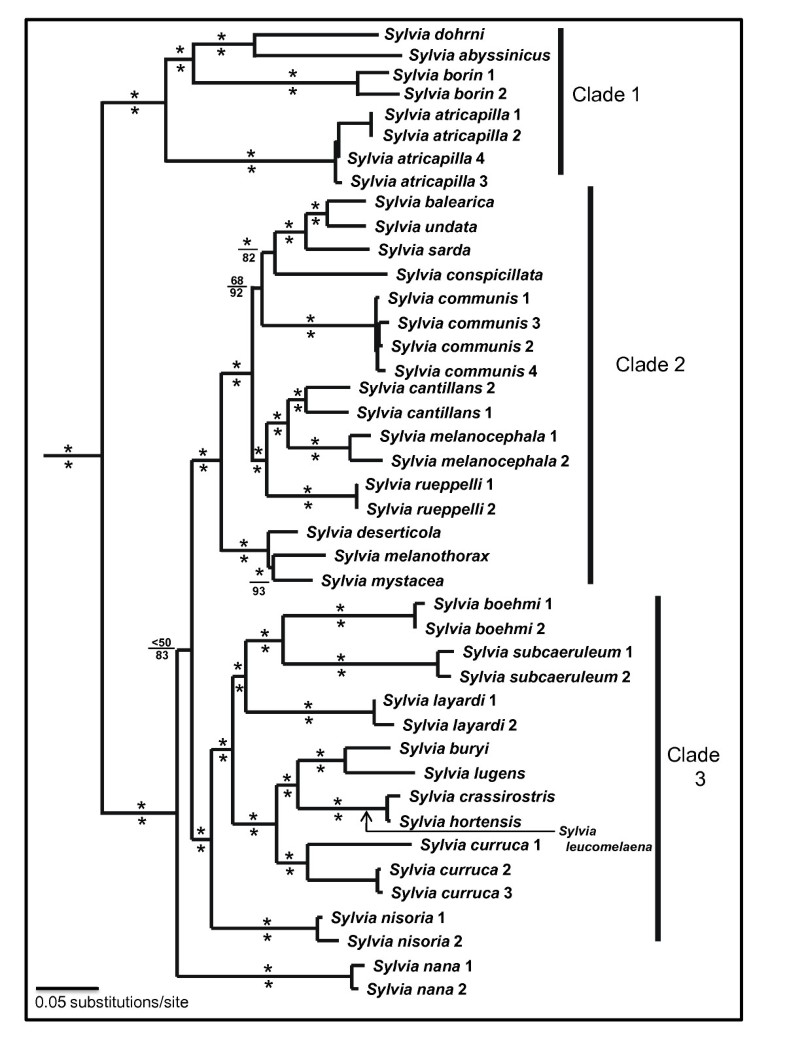 Maximum likelihood (ML) and Bayesian analyses identified a monophyletic Sylvia relative to the outgroup taxa (Figure 2). Both Bayesian posterior probabilities (PP) and ML bootstrap support (BS) values indicated very strong support for most relationships in Sylvia. Just four nodes were supported at less than 0.95 PP, and only two nodes were supported at less than 75% BS (Figure 2).
Three major clades are evident in the phylogeny (Figure 2). Clade 1 comprises a group of four species, two of which are endemic to Africa (dohrni and abysinnicus) and two that breed largely in Europe or Eurasia and winter largely in Africa (borin and atricapilla). Voelker et al. [3] previously suggested that dohrni belonged in this clade as sister to abysinnicus, rather than in the monotypic genus Horizorhinus, and our results here confirm this.
The next divergence places Sylvia nana basal to the two remaining major clades (Clades 2 and 3), although the sister relationship between these major clades is not well supported by either PP or BS measures (Figure 2). Clade 2 comprises a group of 11 species with breeding distributions around the Mediterranean (including southwestern Asia), and includes three Mediterranean island endemics (balearica, sarda, and melanothorax). Nodal support values for most relationships in this clade are high under one or both measures of support.
Clade 3 is comprised of species that breed around the Mediterranean (including southwestern Asia), as well as four African endemics (boehmi, subcaeruleum, layardi, and lugens). Ten, and perhaps 11 species are included in this clade, depending on how curruca 1 is defined (Figure 2). The relatively deep divergence between our curruca samples (8% uncorrected cyt-b data) suggests that two species could be included here. Based on phenotypic and molecular data two species, minula and althaea, have been recognized as species distinct from curruca. However the systematics and species status of minula and althaea remains controversial [4]. Our curruca 1 is from the defined range of "minula" but we did not have a sample from the range of althaea (2 and 3 are from the defined range of curruca). Regardless, as minula is a Eurasian breeding migrant its recognition here would not influence our additional analyses, and we keep this sample identified as curruca. As with the other major clades, relationships in this third clade are strongly supported.
Biogeographic history and divergence dating
Ancestral area reconstructions in both DIVA and LaGrange identified Asia, or Asia + Europe as probable area(s) for the origin of
Sylvia
(Figure
3
). Given the position of
Sylvia
near or inside babblers (Timaliidae) in broader phylogenies [e.g., [
33
,
52
]], Asia is the most likely ancestral area. Overall, 24 dispersals were inferred by DIVA to explain current distributions across
Sylvia
.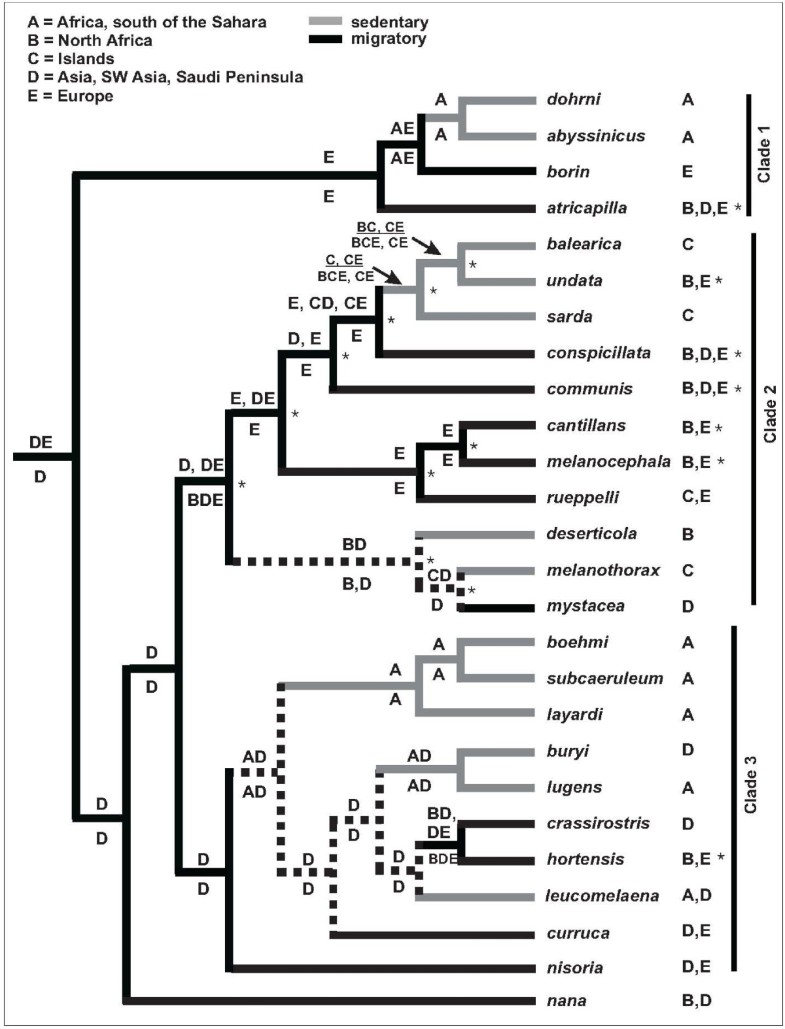 Molecular clock calibration sets the origin of
Sylvia
to ~20 Ma, with diversification of extant lineages beginning at 19.4 Ma (Figure
4
). Speciation of extant species within Clade 1 is dated to 14.5 Ma (Figure
4
) and Europe is reconstructed as the most likely ancestral area for this clade (Figure
3
). Following the divergences of
atricapilla
and
borin
, a sub-Saharan distribution was established (Figure
3
), with a subsequent divergence between
dohrni
(Gulf of Guinea Island endemic) and
abysinnicus
(broad Afro-tropical distribution).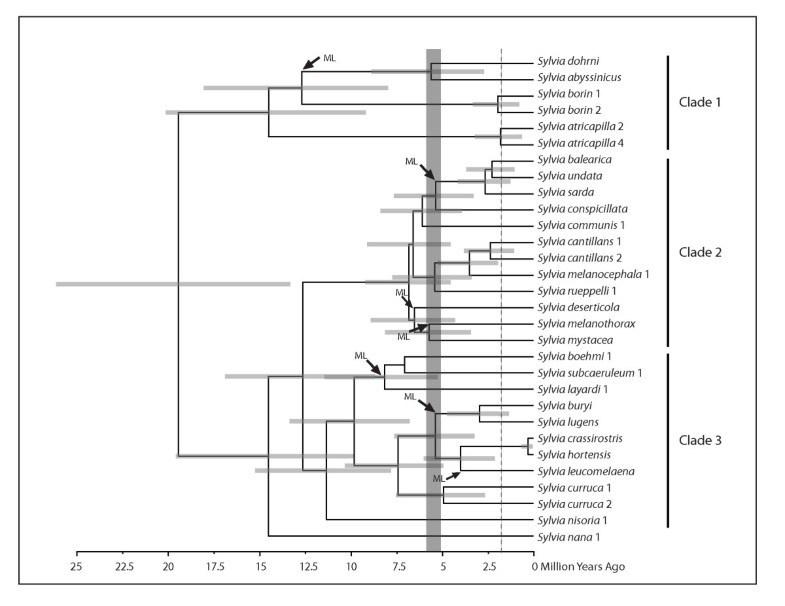 Sylvia nana diverged from the remaining Sylvia 14.5 Ma, and Clades 2 and 3 diverged from one another 12.6 Ma (Figure 4). Asia is reconstructed as the ancestral area for these clades (Figure 3). Within Clade 3, four Asian to African movements are evident. One movement accounts for the North African component of the range of hortensis, while the remaining movements account for sub-Saharan distributions of lugens, leucomelaena and the boehmi clade (Figure 3). Most divergences in Clade 3 occur in the Miocene and Pliocene; just one divergence is dated in the Pleistocene (Figure 4).
Lineage divergence within Clade 2 began 6.8 Ma, prior to the beginning of the MSC at 5.96 Ma (Figure 4). Six subsequent divergences occur in the late Miocene and four occur in the Pliocene (Figure 4). In Clade 2, Island endemics are not each other's closest relatives, indicating multiple vicariance or dispersal events. In this clade, ancestral area reconstructions conflicted depending on how species distributions were coded. If Island distribution was restricted to island endemics (balearica, sarda, melanothorax) and rueppelli (a species with a combined island and very small continental distribution), then continental areas are reconstructed as ancestral for the clade (Figure 3). However, if broadly distributed continental species that also have island distributions are coded as such, then Island is reconstructed as the sole ancestral area for every node in Clade 2 by LaGrange, and for all but two nodes by DIVA (Island + another area; Figure 3). This conflict results in competing interpretations of the biogeographic history of this clade (see below).
Evolution of migration
Migration is reconstructed as the ancestral state for Sylvia, and as the ancestral state for each of the three major clades (Figure 3). Seven changes in migratory habit are evident but several branches are reconstructed as equivocal under the most parsimonious reconstruction of character state (Figure 3). Using ACCTRAN (change forced to base of tree) to resolve character states at these equivocal nodes suggests that sedentary behavior independently evolved four times, with migratory behavior subsequently evolving three times in two otherwise sedentary clades. Using DELTRAN (change delayed toward tree tips) to resolve character states suggests that migration was lost seven times (no gains; Figure 4). Deciding when to use ACCTRAN or DELTRAN can be problematic [e.g., [53]], but we suggest that assuming more recent evolutionary changes (DELTRAN) in migratory behaviors are consistent with similar studies (both inter- and intraspecific) of other avian lineages which suggest that birds can and do respond rapidly to environmental changes by changing migratory behaviors [e.g., [54]].
Conclusion
Our analyses provide the first well-resolved phylogeny for Sylvia warblers, a focal genus for a variety of morphological, behavioral, systematic, and evolutionary studies [e.g., [1, 2, 5, 7–9]]. Molecular clock calibration suggests that Sylvia arose in the early Miocene (19.4 Ma), and that few lineage divergences in the genus were directly driven by palaeo-climatic changes associated with the Messinian Salinity Crisis. Losses of long-distance migratory behavior are correlated with several lineage divergences and distributions, particularly African lineages or Island endemic species. Elsewhere in the phylogeny, divergences can be linked to broad-scale palaeo-climatic events that have been shown to have affected a multitude of vertebrate lineages in both Eurasia [e.g., [66]] and Africa [e.g., [16, 26, 29, 31, 35]]. There is evidence that palaeo-climatic changes near the Plio-Pleistocene boundary may have impacted lineage divergences in Sylvia [34, this study], and additional study is needed to determine if these divergences warrant the recognition of additional Sylvia species.
Declarations
Acknowledgements
We thank the following researchers and museums for the loan of samples used in the study: Katrin Böhning-Gaese, Barrick Museum of Natural History, Moscow State University Zoological Museum, San Diego State University, United States National Museum, University of Washington Burke Museum, Yale Peabody Museum of Natural History, and Zoological Museum University of Copenhagen, and especially Martin Haase for samples from the collection of Andreas Helbig. Laboratory work was supported by NSF DEB-0613668 to GV and R.C.K. Bowie. We thank K. Arnold for her efforts in the lab and two anonymous reviewers for helpful comments for improving the manuscript. This is publication number 1371 of the Texas Cooperative Wildlife Collection and number 191 of the Center for Biosystematics and Biodiversity, both at Texas A&M University.
Authors' Affiliations
(1)
Department of Wildlife and Fisheries Sciences and Texas Cooperative Wildlife Collections, Texas A&M University, College Station, USA
Copyright
© Voelker and Light; licensee BioMed Central Ltd. 2011
This article is published under license to BioMed Central Ltd. This is an Open Access article distributed under the terms of the Creative Commons Attribution License (http://creativecommons.org/licenses/by/2.0), which permits unrestricted use, distribution, and reproduction in any medium, provided the original work is properly cited.