Research article

Open Access
The proteomic complexity and rise of the primordial ancestor of diversified life
BMC Evolutionary Biology
2011
11:140
Received: 2 February 2011
Accepted: 25 May 2011
Published: 25 May 2011
Abstract
Background
The last universal common ancestor represents the primordial cellular organism from which diversified life was derived. This urancestor accumulated genetic information before the rise of organismal lineages and is considered to be either a simple 'progenote' organism with a rudimentary translational apparatus or a more complex 'cenancestor' with almost all essential biological processes. Recent comparative genomic studies support the latter model and propose that the urancestor was similar to modern organisms in terms of gene content. However, most of these studies were based on molecular sequences, which are fast evolving and of limited value for deep evolutionary explorations.
Results
Here we engage in a phylogenomic study of protein domain structure in the proteomes of 420 free-living fully sequenced organisms. Domains were defined at the highly conserved fold superfamily (FSF) level of structural classification and an iterative phylogenomic approach was used to reconstruct max_set and min_set FSF repertoires as upper and lower bounds of the urancestral proteome. While the functional make up of the urancestral sets was complex, they represent only 5-11% of the 1,420 FSFs of extant proteomes and their make up and reuse was at least 5 and 3 times smaller than proteomes of free-living organisms, repectively. Trees of proteomes reconstructed directly from FSFs or from molecular functions, which included the max_set and min_set as articial taxa, showed that urancestors were always placed at their base and rooted the tree of life in Archaea. Finally, a molecular clock of FSFs suggests the min_set reflects urancestral genetic make up more reliably and confirms diversified life emerged about 2.9 billion years ago during the start of planet oxygenation.
Conclusions
The minimum urancestral FSF set reveals the urancestor had advanced metabolic capabilities, was especially rich in nucleotide metabolism enzymes, had pathways for the biosynthesis of membrane sn1,2 glycerol ester and ether lipids, and had crucial elements of translation, including a primordial ribosome with protein synthesis capabilities. It lacked however fundamental functions, including transcription, processes for extracellular communication, and enzymes for deoxyribonucleotide synthesis. Proteomic history reveals the urancestor is closer to a simple progenote organism but harbors a rather complex set of modern molecular functions.
Keywords
Horizontal Gene TransferEnzyme CommissionRoot BranchOrganismal LineageProtein Domain Structure
Background
Cellular organisms in the contemporary living world have been classified into superkingdoms Archaea, Bacteria, and Eukarya [1] ever since archaebacteria were discovered over three decades ago [2]. Every newly recorded species of the over a million that have been described (belonging to the ~107-108 that probably exist on Earth [3–5]) has failed to escape from the boundary of the three-superkingdom natural system. This system confers a rigid universal taxonomic structure for a universal 'tree of life', a phylogeny that describes how lineages on Earth diversified from a primordial ancestor. In phylogenetics, the most basal and ancient (plesiomorphic) node of an evolutionary tree defines a common ancestor of the organismal set (taxa) under study. Generally, this node is a hypothetical entity, the first of a chain of ancestors giving rise to each and every organism in the tree. The tree of life defines the last universal common ancestor (LUCA), an organism responsible for the emergence of Earth's primary lineages [6–12]. However, the current tree of life is not universal, i.e. not all primary lineages are represented in the tree. The tree describes the evolution of organisms with ribosome-containing cells (ribocells) and does not incorporate viruses or other lineages that lack ribosomes (virocells), have biological boundaries that are difficult to define, or are evolutionarily highly mobile [13, 14]. The tree of life may also have reticulations because of horizontal gene transfer (HGT), convergent evolution, and recruitment processes that complicate the genetic make up of lineages. While the terms "network" or "rhizome" have been proposed, reticulations often affect the history of organismal components but maintain the integrity of lineages [15], and all lineages most probably had a single evolutionary origin [16]. LUCA is believed to be a cellular entity, even though its make up has been considered contentious [6, 17]. Its cellular status was probably attained progressively, starting with molecular components drawn from the emerging and fuzzy biochemistry of primordial Earth and ending with more complex biological machinery needed to sustain the integrity of lineages in an increasingly diversified world. In particular, cell-defining ribosomes evolved from the start as ribonucleoprotein ensembles [18] but emerged before the loss of the first protein fold in a superkingdom 2.6 billion years (giga-annum; Ga) ago, a first indication of clear organism diversification [19, 20]. Conceptually, the primordial ancestor by definition cannot represent a formal lineage; no prior phylogenetic ancestor precedes it, being first and last of a gradually evolving community of primordial organisms. Consequently, we regard this primordial ancestral entity as the most basal node of the tree of life and name it for simplicity the 'urancestor' (root 'ur' = primitive), a primitive organism that evolved in a time when improving the molecular make up was the main focus of the evolutionary progression.
The emergence of the urancestor probably represents a singular evolutionary chain of events responsible for the universal genetic code and widely shared biological structure. However, defining the complexity (or simplicity) of its molecular features (characters) is problematic, as it often depends on the levels of molecular structure analyzed (e.g., molecular sequence, motifs in sequence, structural motifs, structural domains), the rooting of the tree of life, and the methods used for ancestral character state reconstruction. While it is likely that the urancestor had functional ribosomal RNA (rRNA) and some transfer RNA (tRNA) molecules [6, 8, 21], as revealed by phylogenetic analysis of RNA and protein structure [18, 22]), and was probably endowed with functions associated with DNA replication [23], its translational apparatus has been considered to be rudimentary [6, 24]. Penny and Poole [8] later on expanded urancestral complexity to include besides translation and DNA replication, transcription, cell division, and regulatory elements of information processing, suggesting a functionally complex entity much akin to that of modern life. Comparative genomic studies that included the first archaeal genome that was sequenced, Methanococcus jannaschii, resulted in arguable conclusions [25]. Broader comparative analyses of entire genomic repertoires were still inconclusive, supporting the simple 'progenote' model proposed by Woese [6] or the complex 'cenancestor' (sensu [26]) model that equated the urancestor to modern organisms [7–12]. For example, Koonin [9] traced evolutionary histories of orthologous genes in ~100 genomes using parsimony thinking and phylogenetic trees of ribosomal proteins and rRNA. Although the numbers of urancestral genes ranged from tens to ~1,800 depending on composite parameter values of rates of differential HGT and gene loss, the gene set included most of the translation apparatus and a few transcriptional components but lacked DNA replication regardless of parametric values. In contrast, Ouzounis and colleagues initially identified ~300 ancient proteins from homologues of M. jannaschii open reading frames [7]. Except for regulatory elements related to information (i.e. translation, transcription, etc), proteins encompassed Penny and Poole's urancestral functions. A more recent study of 184 genomes identified 669 orthologous protein families, which cover 561 detailed functional classes that are involved in almost all essential biological processes of extant life, including translation, transcription and its regulation, DNA replication, recombination, and repair, transport and membrane-associated functions, electron transfer, and metabolism [10]. Similarly, comparison of protein fold structures among lineages of the three superkingdoms supported an urancestor with functional complexity similar to that of extant life [11, 27].
Mutation and chromosomal rearrangement change the sequence of nucleic acids and proteins continuously. The high pace of sequence change can complicate phylogenetic analysis and character state reconstruction. Differential evolutionary rates among organismal lineages, horizontal gene transfer (HGT), and non-orthologous gene displacement can generate phylogenetic artifacts such as long-branch attraction and unrecognized paralogy [8, 9, 15, 28]. This compounds with difficulty in identifying homology by sequence alignment [29], the troublesome task of assigning orthologous relationships [28], and the problem of saturation of substitutions [15]. These phylogenetic artifacts can be responsible for the variable rootings of the tree of life. Finally, origins of genes can be highly variable depending on reference trees that are used for tracing their evolutionary histories. Except for a couple of studies [11, 27], all surveys of urancestral molecular repertoires that were fully based on sequence conservation must be considered susceptible to these problems.
In this study we focus on the three-dimensional (3D) structure of protein domains that result from the folding of polypeptide chains. These structures are grouped into fold families (FF), fold superfamilies (FSFs), and folds (F) in a robust hierarchical classification scheme, the structural classification of proteins (SCOP)[30]. In particular, we focus on FSFs, groups of FFs (protein structures that are homologous based on sequence identity) that share structural and functional features suggestive of a common evolutionary origin. SCOP currently defines ~2,000 FSFs, and ~7 × 107 proteins present in ~1,124 completely sequenced genomes (October 2009)[31] have been assigned to at least one FSF by scanning with hidden Markov models (HMMs)[32]. The relatively small number of FFs, FSFs, and Fs present in nature indicates protein structure is much more conserved than sequence and is refractory to evolutionary change [27]. In fact, a comparative analysis of structurally aligned protein domains and aligned protein sequences showed structures are 3-10 times more conserved than sequences [33]. The structures are therefore good phylogenetic markers for deep events in evolutionary history. The large and growing number of genomic sequences and their associated FSF assignments also guarantees a broad organismal census. Moreover, the evolutionary conservation and deep phylogenetic signal of FSFs has been repeatedly verified by recovery of reliable phyletic patterns describing the evolution of the three superkingdoms [34, 35] and by successful exploration of the origin of modern metabolic networks [36]. All of these features and the fact that domains diversify mostly by vertical descent [37–39] make domain structure extremely useful for the evolutionary study of proteomes and urancestral protein repertoires.
Here we build a tree of life using a census of FSF domains in 420 free-living (FL) proteomes and employ an iterative strategy to reconstruct the urancestral proteome (Figure
1
). Initially, FSFs that are placed in the root branch of the tree are assigned to the urancestor. We reason that FSFs that appear after the division of the three superkingdoms must be absent in a non-diversified organismal world. We therefore exclude FSFs of relatively recent age iteratively, using FSFs in the root branch of an initial proteome tree as phylogenetic characters for reconstructing a new tree. The procedure identifies a set of urancestral FSFs that is shielded from the so-called 'modern effect', the impact of recent convergent evolutionary processes on ancient repertoires [
40
]. Finally, biological functions associated with upper and lower bounds of an urancestral proteome are annotated using a coarse-grained functional classification of FSFs [
41
]. This information served to define the molecular functions and biological processes of the primordial ancestor of diversified life and allowed to time the actual appearance of this elusive but crucial ancestral entity.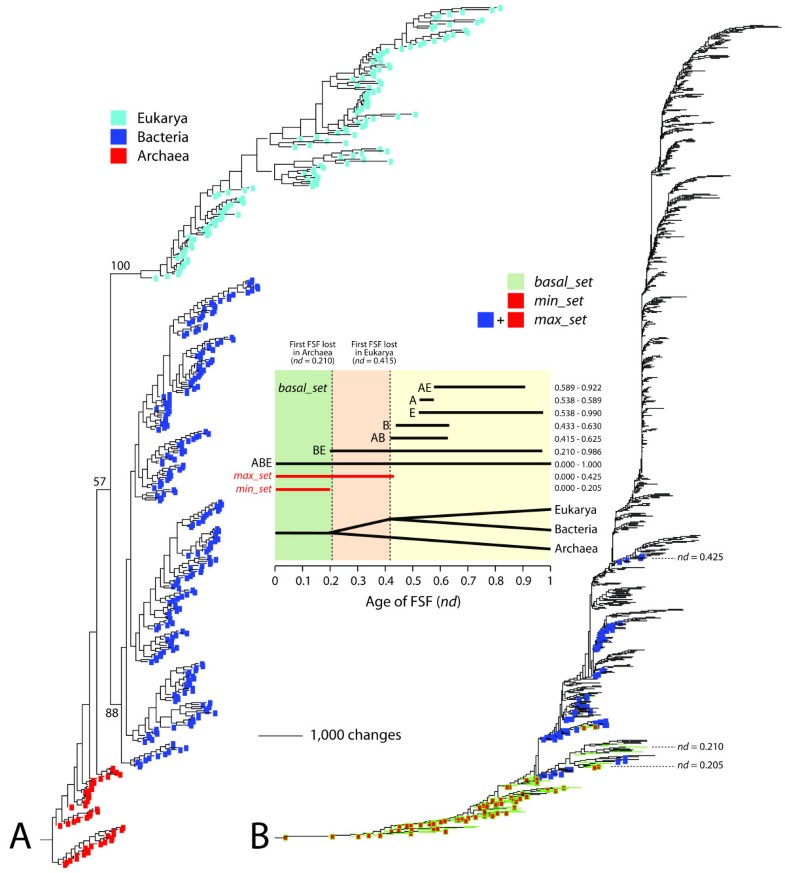 Conclusions
The history of proteomes and the protein world was reconstructed from a census of protein domain structure at FSF level of structural complexity in hundreds of FL proteomes. Applying an iterative approach of character state reconstruction, we identified the most parsimonious repertoire of domain structures that was present in the urancestor. Upper and lower bounds of the repertoire defined conservative limits for the diversity of domains and associated functions and showed the uracestor had a functionally complex but relatively simple repertoire, with numbers of FSFs probably orders of magnitude below that of extant organisms. Since the lower bound is more compatible with a molecular clock of FSFs and the fossil record, we can make reasonable inferences about the molecular make up of this primordial organism. The urancestor had an advanced metabolic network, especially rich in nucleotide metabolism enzymes, had primordial pathways for the biosynthesis of membrane glycerol ether and ester lipids, crucial elements of translation, including aRSs, regulatory factors, and a primordial ribosome with protein synthesis capabilities. It lacked however transcription and in advanced evolutionary stages stored genetic information in RNA (not DNA) molecules. As this ancient organism expanded its protein biosynthetic functions ~3 Ga ago, it added crucial ribosomal proteins that enhanced the reliability and processivity of the ribosome and crucial enzymes that diversified its membrane lipid make up. We here propose the enhancement of the primordial ribosomal machinery and the make up of the cellular containment, which coincided with the rise of planetary oxygen, enabled the rise of lineages and a truly diversified world of organisms.
Abbreviations
FSF:

fold superfamily
FF:

fold family
FL:

free living
Ga:

giga-annum
HGT:

horizontal gene transfer
LUCA:

last universal common ancestor
SCOP:

Structural Classification of Proteins.
Declarations
Acknowledgements
We thank Dr. Liudmila S. Yafremava for helping with assignments of organismal lifestyles and members of the GCA research team for valuable comments. Research was supported by the National Science Foundation (MCB-0749836), CREES-USDA, and the International Atomic Energy Agency in Vienna. Any opinions, findings, and conclusions and recommendations expressed in this material are those of the authors and do not necessarily reflect the views of the funding agencies.
Authors' Affiliations
(1)
Evolutionary Bioinformatics Laboratory, Department of Crop Science, University of Illinois, Urbana, USA
(2)
Korean Bioinformation Center, Korea Research Institute of Bioscience and Biotechnology, Yuseong-gu, Daejeon, Korea
Copyright
© Kim and Caetano-Anollés; licensee BioMed Central Ltd. 2011
This article is published under license to BioMed Central Ltd. This is an Open Access article distributed under the terms of the Creative Commons Attribution License (http://creativecommons.org/licenses/by/2.0), which permits unrestricted use, distribution, and reproduction in any medium, provided the original work is properly cited.