Research article
Open Access
Determining gene flow and the influence of selection across the equatorial barrier of the East Pacific Rise in the tube-dwelling polychaete Alvinella pompejana
BMC Evolutionary Biology
2010
10:220
Received: 2 March 2010
Accepted: 22 July 2010
Published: 22 July 2010
Abstract
Background
Comparative phylogeography recently performed on the mitochondrial cytochrome oxidase I (mtCOI) gene from seven deep-sea vent species suggested that the East Pacific Rise fauna has undergone a vicariant event with the emergence of a north/south physical barrier at the Equator 1-2 Mya. Within this specialised fauna, the tube-dwelling polychaete Alvinella pompejana showed reciprocal monophyly at mtCOI on each side of the Equator (9°50'N/7°25'S), suggesting potential, ongoing allopatric speciation. However, the development of a barrier to gene flow is a long and complex process. Secondary contact between previously isolated populations can occur when physical isolation has not persisted long enough to result in reproductive isolation between genetically divergent lineages, potentially leading to hybridisation and subsequent allelic introgression. The present study evaluates the strength of the equatorial barrier to gene flow and tests for potential secondary contact zones between A. pompejana populations by comparing the mtCOI gene with nuclear genes.
Results
Allozyme frequencies and the analysis of nucleotide polymorphisms at three nuclear loci confirmed the north/south genetic differentiation of Alvinella pompejana populations along the East Pacific Rise. Migration was oriented north-to-south with a moderate allelic introgression between the two geographic groups over a narrow geographic range just south of the barrier. Multilocus analysis also indicated that southern populations have undergone demographic expansion as previously suggested by a multispecies approach. A strong shift in allozyme frequencies together with a high level of divergence between alleles and a low number of 'hybrid' individuals were observed between the northern and southern groups using the phosphoglucomutase gene. In contrast, the S-adenosylhomocysteine hydrolase gene exhibited reduced diversity and a lack of population differentiation possibly due to a selective sweep or hitch-hiking.
Conclusions
The equatorial barrier leading to the separation of East Pacific Rise vent fauna into two distinct geographic groups is still permeable to migration, with a probable north-to-south migration route for A. pompejana. This separation also coincides with demographic expansion in the southern East Pacific Rise. Our results suggest that allopatry resulting from ridge offsetting is a common mechanism of speciation for deep-sea hydrothermal vent organisms.
Keywords
Gene FlowSelective SweepSouthern PopulationEast Pacific RiseVicariant Event
Background
Many population genetic models have been proposed to describe how individuals disperse between geographically separated localities including n-island models [1, 2], stepping-stone [3] or isolation-by-distance [4, 5] models, and have subsequently been adapted to a metapopulation context to integrate population dynamics through time (i.e. local extinction and recolonisation rates; reviewed in [6, 7]). Nevertheless, a physical barrier to dispersal can disrupt the relationship between genetic differentiation and migration rate: all models show that the establishment of a long-term physical barrier to dispersal abruptly reduces or stops gene flow between populations and leads to a rapid change in allele frequencies on either side of the barrier that may be dampened or accelerated depending on the type of selection at specific loci. This often leads to the fixation of mutations (divergence) and reciprocal monophyly for many loci, provided that no lineage extinction or population admixture occurs [8]. Secondary contact events can produce genetic incompatibilities and clinal allelic distributions whose shapes depend primarily on the strength of selection against hybrids [9].
Deep-sea hydrothermal vents represent a patchily distributed habitat (sometimes separated by thousands of kilometres) suggestive of a one-dimensional stepping-stone model over 60 000 kilometres of globe-encircling ridge crests [10]. Because of their dependence on 'hot' sulphidic fluids from vent chimneys, deep-sea hydrothermal vent species display an island-like distribution along ridges. This habitat distribution raises questions about vent species' dispersal among sites and the putative occurrence of physical barriers to dispersal [11, 12]. It has been hypothesised that hydrothermal vent species disperse primarily in their local neighbourhood [13], as in the Kimura and Weiss [3] one-dimensional stepping-stone model, and thus follow an isolation-by-distance model [11]. However, in most cases, allozyme studies have failed to detect isolation-by-distance among populations of hydrothermal vent species (e.g. [14, 15]), suggesting that an n-island model [1] is a better description of gene flow in vent systems.
Amongst vent species, the deep-sea hydrothermal vent polychaete Alvinella pompejana, which only lives at the top of hydrothermal-vent chimneys of the East Pacific Rise (EPR) between 38°S and 27°N (Guaymas Basin), has been described as a pioneer species because it is the first species to colonise new hot-sulphide edifices [16]. The larval development of this tube-dwelling worm is still largely unknown, but large yolk-rich eggs (150-200 μm), suggest that larval development is lecithotrophic and could be delayed in cold (1.5-2°C) water away from vent fields [12]. This worm species reproduces via internal fertilization and has nearly continuous gametogenesis, maximising its reproductive effort [17]. During mating, spermatozoids are transferred to the female in a spermatecae, and multiple paternity is possible [18]. This kind of reproductive mode is known to strongly favour larval retention in the immediate surrounding of the source population, which may be advantageous in unstable and patchy environments [19]. Given this set of reproductive characteristics and the recurrent extinction and recolonisation of vent edifices, Jollivet et al. [20, 21] have proposed that this species follows a propagule-flux model of dispersal (i.e. (re)colonisation of a previously extinct or new vent site from the closest populations, [22]). A hydrodynamic model predicts that effective migration rates - accounting for A. pompejana's larval biology - cannot be maintained across vent fields if larvae travel more than 15-30 days in the water column [12]. Nevertheless, using allozymes this species lacks any clear genetic structure from latitudes 9°50'N to 21°N despite a microgeographical population differentiation at the scale of vent fields (i.e. tens of kilometres) [23]. These results suggest that the potential for larvae to disperse may be higher than previously thought provided that no physical barrier to gene flow exists along the ridge system [24]. Accordingly, Pradillon et al. [25] reported an experiment where A. pompejana embryos can arrest their development in cold water, potentially delaying their metamorphosis during dispersal from vents. To better explain the absence of isolation-by-distance in the northern EPR, three hypotheses have been proposed: (1) allozymes lack the power to detect genetic differentiation between populations; (2) balancing selection - due to the homogeneity of vent conditions along the whole ridge system - maintains homogeneous allozyme frequencies; or (3) displacement of habitat patches over geological times promote metapopulation dynamics, thereby maintaining gene flow [24]. The first hypothesis was tested by Audzijonyte and Vrijenhoek [26] who suggested that undersampling biased some of the previous analyses. The second hypothesis was supported by Piccino et al. [27] who observed balancing selection on the phosphoglucomutase (PGM) locus with one particularly thermostable allele being more frequent in young populations. Interestingly, this study also showed allele frequencies were homogenous at the metapopulation scale, proving support for the third hypothesis. The third hypothesis was tested by a model which showed that bursts of colonisation events following the emergence of new vent sites along with population reconnections were sufficient to prevent genetic differentiation between distant sites given limited dispersal of A. pompejana larvae [21]. The model predictions were however, based on the possibility that new vent sites could occur across physical barriers such as transform faults.
Recently, genetic divergence of nearly 1% was observed at the mitochondrial cytochrome c oxidase subunit I (mtCOI) gene between the northern and southern EPR populations of A. pompejana [28, 29], suggesting the occurrence of an impermeable equatorial barrier to gene flow. Furthermore, Plouviez et al. [29] demonstrated that this barrier affected most EPR vent fauna 1 to 2 Mya, giving credence to the role of transform faults in provoking vicariant events between vent communities and allopatric speciation. In the present study, an extended analysis of allozyme and mtCOI haplotype distributions over the geographic range of the species, including the southern EPR, was performed to better address the ability of allozymes to detect genetic differentiation and to discriminate between the three hypotheses described above. Three additional nuclear genes, including the PGM locus, were used to evaluate the strength of this equatorial barrier to gene flow and to test for potential secondary contact. We also attempted to quantify migration and/or introgression rates between the previously isolated northern and southern EPR populations to disentangle the effects of selective and demographic processes contributing to the genetic break.
Discussion
Emergence and strength of the equatorial barrier to gene flow
A genetic break at the mtCOI gene between the northern and southern EPR populations has been identified in previous studies by using a large number of hydrothermal vent species [28, 29]. For some species, such as the gastropod Lepetodrilus ovalis and the bivalve Bathymodiolus thermophilus, a clinal distribution of the northern and southern mtCOI haplotypes was observed and attributed to the occurrence of a secondary contact zone between the northern and southern EPR [29]. In contrast, A. pompejana exhibited a clear equatorial break at this locus, raising the question of the permeability of this barrier to gene flow. The strength of the break between the northern and southern populations of A. pompejana appears to have significantly affected both allozyme and nuclear loci despite the recent formation of the barrier. Although the SAHH gene exhibited very little differentiation across this barrier, both the GlobX and PGM loci displayed a clear geographic separation of alleles. Divergence between northern and southern clades was estimated at ~1-2 Mya using the IMa multilocus estimation with very low migration rates. This estimate is in agreement with the shared vicariant event estimated at ~1.3 Mya from a series of vent species using approximate Bayesian computation on the mtCOI gene [29]. This isolation may be the consequence of the formation of multiple transform faults ~1-2 Mya in the region (Figure 1, [59–61]) reinforced by a strong transverse deep-sea current at the Equator [62].
Slight, but significant differentiation at six allozyme loci across the equatorial barrier indicates that 1-2 My may not be sufficient to affect the net charge state of allozymes to create divergence, but likely reduced migration rates enough to modify allozyme frequencies by random genetic drift. This is particularly obvious in the distributions of allozymes and RFLP variants at the
PGM
locus (see Figure
6
). Comparing patterns of genetic differentiation between PGM allozymes and DNA sequences indicated that allozymes are less sensitive at detecting the break. Moreover, the nearly complete replacement of the most frequent allele (100) in the northern populations by allele 78 in the south suggested that genetic drift is the main force acting to separate these populations at this locus. This equatorial break contrasts with the complete lack of genetic differentiation previously observed along thousands kilometres of vent fields on both sides of the EPR ([
18
], along the southern EPR in the present study) and confirms that isolation-by-distance by itself is not a valid argument to explain the observed decrease of gene flow for
A. pompejana
. In the absence of physical barriers, the species is able to disperse farther than expected based on moderate inter-field distances and the high bottom-current velocities [
12
]. This may be explained by either a developmental arrest of embryos in cold abyssal water masses and subsequent delay in metamorphosis [
25
], or the displacement of vent sites due to the movement of hydrothermal activity along the ridge axis, allowing bursts of colonisation by reconnecting previously isolated populations [
21
].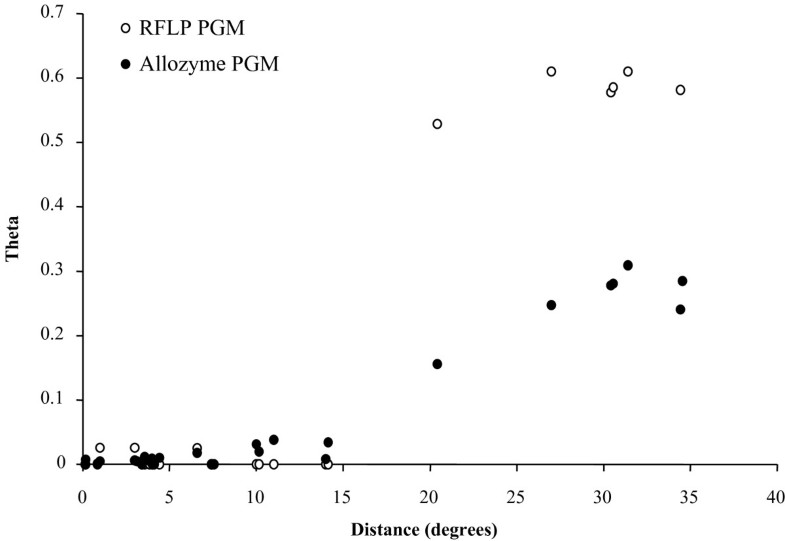 Questions addressing potential migration during an ongoing allopatric isolation process may be explored in two ways, depending on the primary cause for separation of populations (transform faults or bottom water circulation): (1) is there a progressive isolation of the north and south populations of A. pompejana by the offsetting of ridge segments at the Equator? or (2) is there emergence of a secondary contact between previously isolated populations due to the relaxation (i.e. attenuation of the transverse circulation) of the barrier?
Permeability of the barrier
Variation in the magnitude of the genetic differentiation among loci has been widely reported during the process of allopatric speciation [63] and is commonly detected across barriers to gene flow [64–66]. This is mainly attributable to: (1) the sensitivity of the molecular method used to detect polymorphism, which in turn depends on the time scale at which the isolation is observed (i.e. the accumulation of non-synonymous mutations that change the net charge of a protein is a long process) [67], (2) the stochasticity of the coalescence process [68], and (3) the formation of a genetic barrier when secondary contacts occur [9, 49, 69]. Fitting an isolation-with-migration model [45] between the northern and southern EPR populations help to estimate both historical and contemporary migration and better understand the role of the equatorial barrier on the isolation process. Even if the estimated migration rates were not significantly different from zero, the shape of the posterior probability distribution of mn (north to south) was shifted in comparison to ms (see Figure 4B) and suggests that the barrier is porous. While migration was weak or absent at mtCOI, all nuclear genes displayed an asymmetric number of migration events across the Equator from north to south (Table 3), suggesting that allele migration can occur between the northern and southern groups. This was confirmed by detecting a few intermediate individuals at 7°25'S and 14°S between the northern and southern PGM groups.
The fact that gene flow is virtually absent for at least two loci (mtCOI and PGM) raises the question of whether the barrier is becoming increasingly impermeable to dispersal with time, or whether it represents a semi-permeable genetic barrier following recent secondary contact. In the first case, one can expect that most "migrating" alleles (i.e. alleles typifying one lineage found in the other one) would coalesce deeply in the evolutionary tree as they will represent incomplete lineage sorting. In the other case (emergence of a tension zone), all "migrating" alleles should coalesce shortly in the coalescence tree, leading to very low mtimes (times at which gene flow was maximum).
Mean times of migration at the three nuclear genes indicated that gene exchanges are probably not recent and may have been maximal ~20 000 to 300 000 years ago and support the hypothesis of incomplete lineage sorting and ancestral variation [see [49, 70]], favouring an increasingly stronger barrier scenario. However, the high level of gene flow heterogeneity across both nuclear and mitochondrial loci favours the notion of a semi-permeable barrier to gene flow as previously defined by Harrison [71]. Natural selection is expected to prevent gene flow in regions of the genome linked to genetic incompatibilities and to generate interloci differences in migration rates [72]. To this extent, the restriction of 'hybrid' individuals as estimated from the PGM RFLP screening to a narrow zone located between 7°25'S-14°S could be indicative of the occurrence of a genetic barrier with differential selection against hybrids [69, 73, 74]. However, it may also simply reflect the fact that very few individuals are able to cross the geographic barrier by chance maintaining low frequencies according to the migration/drift equilibrium. Currently, the present number of nuclear loci is too small to strongly indicate the presence of a genetic barrier. Given that the vicariant event was quite recent (1-2 Mya), genetic incompatibilities and effective selection against hybrids may not have had time to arise supporting a model of progressive isolation of A. pompejana populations.
Demographic expansion in the southern EPR hypothesis and evidence for a possible selective sweep at the SAHHgene
A comparative phylogeographic approach involving seven vent species using the mtCOI gene (including A. pompejana) revealed the occurrence of a concomitant demographic expansion in the southern EPR within the last 0.5 My [29]. In the present study, southern populations (but not necessarily northern populations) displayed significantly negative Tajima's D and Fu and Li statistics for all genes. Moreover, the bottleneck model (M2) was significantly better than the constant-size model (M1) in describing the genealogies associated with the southern populations. Assuming a similar distribution of nucleotide diversity across the studied genes (as expected for a demographic event such as expansion [54, 56]), these results are in agreement with an expansion of southern populations, as hypothesised by Plouviez et al. [29]. Multiple extinction and recolonisation events possibly caused by a higher rate of tectonic rearrangements and eruptive phases in the southern EPR [75, 76], would have favoured the recurrence of bottlenecks through time as previously seen from the long-term monitoring of targeted vent fields since 1991 [77, 78]. This also fits well with the drastic change of allozyme frequencies at the PGM locus on each side of the barrier as genetic drift may be greatly enhanced by recurrent bottlenecks and/or founder effects [79, 80]. However, IMa results provided a complete reverse scenario (Figure 4C) suggesting that only the northern populations increased in size since the population splitting. Although unexpected, this finding may be due to several causes: (1) the very high proportion of divergent allelic forms found in the northern populations, a situation typifying an 'old' diversified lineage, (2) the nearly equal sample sizes used in the analysis by suppressing both obvious recombinant alleles and randomly-selected alleles in the south, and (3) the possible non-neutral behaviour of at least one loci (i.e. the SAHH). The two former explanations seem unlikely. In the first case, the expectation would be an ancestral population size nearly similar to that of the northern one. In the second case, the Sweep_bott analysis (based on the same sequence dataset) would have validated the bottleneck scenario in the northern populations. The detection of a bottleneck in the southern populations does not preclude the possible additional effect of a selective sweep at any specific locus. The SAHH locus was the only locus that conformed to a selective sweep model on both sides of the EPR with virtually no genetic differentiation across the expected barrier, if an initial isolation step in allopatry is assumed. An advantageous allele (or a neutral allele linked to a gene under selection by hitch-hiking) is more likely to cross a genetic barrier and to spread within populations of the recipient lineage if the allele is advantageous for both lineages (e.g. [81, 82]). Analyses of nucleotide polymorphism at this locus for northern and southern populations of Alvinella caudata, the most closely-related and syntopic species to A. pompejana, indicated a clear fixed divergence of alleles across the equatorial barrier analogous to divergences observed at both the mtCOI and the PGM loci in A. pompejana (S.P., unpublished data). This suggests that the lack of lineage sorting found in A. pompejana at the SAHH locus is probably not the result of a slow evolutionary rate at this locus but rather a case of high migration rate across the barrier. The spread of an allele across a permeable barrier is expected to be related to the magnitude of the selective advantage [83], suggesting that the sweep may be recent or very strong, even if the Fay and Wu test is only significantly negative in the southern EPR. Moreover, Faure et al. [49] proposed that diversifying selection helped to accelerate the evolution toward reciprocal monophyly at this specific gene in the Atlantic deep-sea vent mussels, suggesting that the SAHH gene may be indeed very sensitive to selection or linked to a potential positively selected gene.
Conclusion
In summary, our multilocus study of A. pompejana populations confirmed the presence of an equatorial barrier, which plays an important role in structuring populations of the species A. pompejana, as proposed by Plouviez et al. [29]. This geographic barrier appears to be still permeable to migration. However, low migration rates that would occur primarily from north to south may also indicate that the barrier is becoming more and more impermeable suggesting that transform faults are a likely mean to promote allopatric speciation along oceanic ridges. In addition, discriminating a bottleneck model from a selective sweep model through the comparison of mtCOI and nuclear genes strongly supports the southern demographic expansion hypothesis previously suggested by a multispecies analysis using mtCOI only. Combining multilocus and multispecies analyses therefore allows us to propose that allopatry is probably one of the major forces promoting speciation and biodiversity within the vent fauna along the one-dimensional framework of oceanic ridges.
Authors' information
This study is part of SP's PhD thesis on the comparative phylogeography of deep-sea hydrothermal vent species along the East Pacific Rise (EPR). Her research involves multiple species and markers to examine speciation and demographic processes along the EPR. DLG is lab technician in charge of genotyping and biochemical analyses. OL works on comparative genomics and bioinformatics. FHL has broad knowledge of vent ecology and has spent most of his career working on the physiology of deep-sea hydrothermal vent species. DJ is a population geneticist working on the evolution and dispersal of deep-sea hydrothermal vent species. He has recently developed a genomic approach to better understand the role of gene adaptation in the evolution of vent species.
Declarations
Acknowledgements
We thank the chief scientists and 'Nautile' crews for their technical support and effort during our oceanographic expeditions: PHARE2002, HOPE99 and BIOSPEEDO2004. We are very grateful to Stéphane Hourdez and Baptiste Faure for collecting and sorting alvinellid polychaetes and to Grant Pogson, Carolyn Engel-Gauthier, Thomas Schultz and the two anonymous referees for their valuable comments and editorial suggestions on the manuscript. We would like to thank Christophe Caron and Erwan Corre for their help in bioinformatics. We are also truly indebted to the sequencing genomic plateforms GENOMER (Station Biologique de Roscoff, France) and GENOSCOPE (Evry, France) for the sequencing of the mtCOI fragment and our clone collection, respectively. This work was supported by the GDR Ecchis, the ANR-06-BDV-005 (Deep Oases: coord. Daniel Desbruyères) and ANR-05-BLAN-0407 (Alvi_Stress_Adapt: coord. Didier Jollivet). S. Plouviez was supported by a PhD grant from the Université Pierre et Marie Curie.
Authors' Affiliations
(1)
Université Pierre et Marie Curie-Paris 6, Laboratoire Adaptation et Diversité en Milieu Marin, Roscoff, France
(2)
CNRS, UMR 7144 Station Biologique de Roscoff, BP 74, Roscoff, France
(3)
Duke University Marine Laboratory, Beaufort, USA
(4)
IGBMC, Laboratoire de Bioinformatique et de Génomique Intégratives, Parc de l'Innovation, Campus Illkirch, France
Copyright
© Plouviez et al; licensee BioMed Central Ltd. 2010
This article is published under license to BioMed Central Ltd. This is an Open Access article distributed under the terms of the Creative Commons Attribution License (http://creativecommons.org/licenses/by/2.0), which permits unrestricted use, distribution, and reproduction in any medium, provided the original work is properly cited.