Research article

Open Access
Some novel intron positions in conserved Drosophila genes are caused by intron sliding or tandem duplication
BMC Evolutionary Biology
2010
10:156
Received: 30 November 2009
Accepted: 26 May 2010
Published: 26 May 2010
Abstract
Background
Positions of spliceosomal introns are often conserved between remotely related genes. Introns that reside in non-conserved positions are either novel or remnants of frequent losses of introns in some evolutionary lineages. A recent gain of such introns is difficult to prove. However, introns verified as novel are needed to evaluate contemporary processes of intron gain.
Results
We identified 25 unambiguous cases of novel intron positions in 31 Drosophila genes that exhibit near intron pairs (NIPs). Here, a NIP consists of an ancient and a novel intron position that are separated by less than 32 nt. Within a single gene, such closely-spaced introns are very unlikely to have coexisted. In most cases, therefore, the ancient intron position must have disappeared in favour of the novel one. A survey for NIPs among 12 Drosophila genomes identifies intron sliding (migration) as one of the more frequent causes of novel intron positions. Other novel introns seem to have been gained by regional tandem duplications of coding sequences containing a proto-splice site.
Conclusions
Recent intron gains sometimes appear to have arisen by duplication of exonic sequences and subsequent intronization of one of the copies. Intron migration and exon duplication together may account for a significant amount of novel intron positions in conserved coding sequences.
Keywords
Splice SiteTandem DuplicationDrosophila SpeciesIntron GainSpliceosomal Intron
Background
Comparative studies of spliceosomal intron densities have suggested relatively high rates of intron gain during eukaryote evolution [
1
,
2
]. The establishment of introns within fast-evolving genes appears to be an infrequent, but common process involving, for example, intronization of exonic sequences [
3
–
5
]. However, recent gains of introns inside of conserved coding sequences (CDS), often equated with the usage of novel intron positions, appear to be a rare and poorly understood phenomenon [
6
]. At least six mechanisms (see Figure
1
for a schematic overview) have been proposed to explain novel intron positions within conserved open reading frames (ORFs): (1) insertion of a self-splicing type II intron via reverse splicing [
7
]; (2) insertion of a spliceosomal intron via reverse splicing into a new position [
8
]; (3) partial tandem duplication of an exon including a cryptic AG/GY splice motif [
7
]; (4) insertion of a transposable element [
9
]; (5) gene conversion from an intron-containing site into a previously intron-less paralogous site [
10
]; and (6) intron sliding [
11
]. Only the last three pathways are supported by undisputed, albeit anecdotal, evidence [
10
,
12
,
13
]. Recently, a study on
Daphnia
populations [
14
] suggested another intron gain mechanism: The repair of DNA double-strand breaks using small segmental insertions.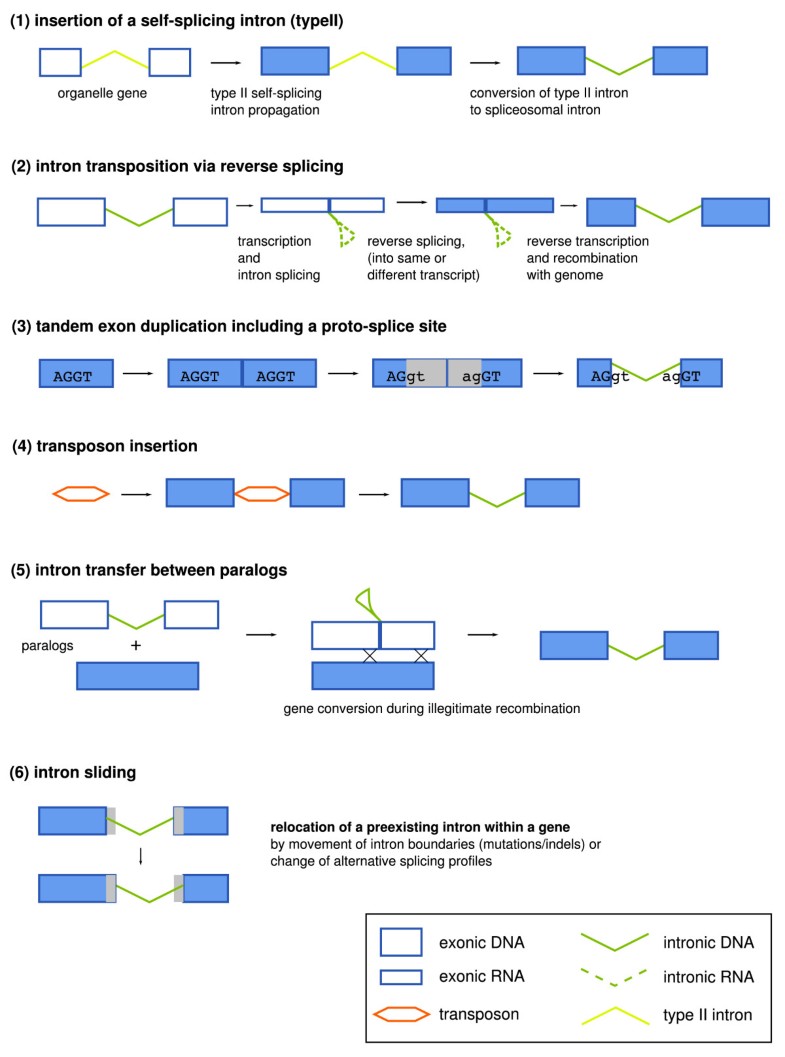 The analysis of near intron pairs [15] allows a systematic investigation of intron gain mechanisms. A near intron pair (NIP) consists of two intron positions that exist in orthologous genes at nearby locations. Exon sizes smaller than about 50 nt are relatively rare [16] and in general functionally detrimental [17]. Thus, such nearby introns typically exclude each other within a single gene. Accordingly, one of these introns must be evolutionarily younger and should define a monophyletic group. By using NIPs to determine the time at which the younger introns were gained, it can be avoided to erroneously identify those introns as novel that have been lost independently in multiple lineages.
Here we use the relatively recently diverged genomes of 12 Drosophila species [18] to identify recent intron gain events in a comparative analysis of gene structures and evaluate possible mechanisms of their origin. In contrast to previous attempts to identify intron loss and gain in Drosophila [19, 20], we chose the NIP approach instead of Dollo parsimony to restrict our analysis to introns for which the evidence of intron gain is more unambiguous. We could identify 31 NIPs within Drosophila.
Their distribution supports the known species phylogeny. Both introns of a NIP were evaluated for sequence similarity to introns, neighboring exons and transposable elements and screened for repetitiveness and potentially meaningful secondary structures, using the ancient, plesiomorphic intron of the NIP as control. In addition, we looked for cryptic splice signals in the adjacent exonic and intronic sequences. There is evidence for intron sliding in 9 of the 31 Drosophila NIPs, while 5 other cases probably arose by tandem duplications within the ORF. In contrast, we found no evidence for any intron insertion mechanism based on alien sequences in our data set.
Conclusions
During our study of novel intron positions in evolutionarily conserved genes of Drosophila we confirmed that near intron pairs (NIPs) are reliable phylogenetic markers. Furthermore, our results support that intron sliding (migration) is one of the causes of recently emerged intron positions within conserved protein-coding Drosophila genes. We also found evidence for the rise of novel introns by tandem duplication of exonic DNA. The origin for 17 out of 31 identified NIPs remains unknown (Figure
7
). Contrary to expectations, the gain of novel introns by other mechanisms could not be proved, for example, by insertion of a spliceosomal intron via reverse splicing into a new position, by insertion of a transposable element or by gene conversion with an intron-containing paralog. Recent origins of spliceosomal introns in eukaryotic genes, therefore, often might be local mutations (Drosophila) or insertions of alien sequences (Daphnia) [
14
], but not insertions of reverse-transcribed sequences. This is supported by a recent analysis of intron gain through intronization in Caenorhabditis [
3
] and should be evaluated also for other eukaryotes.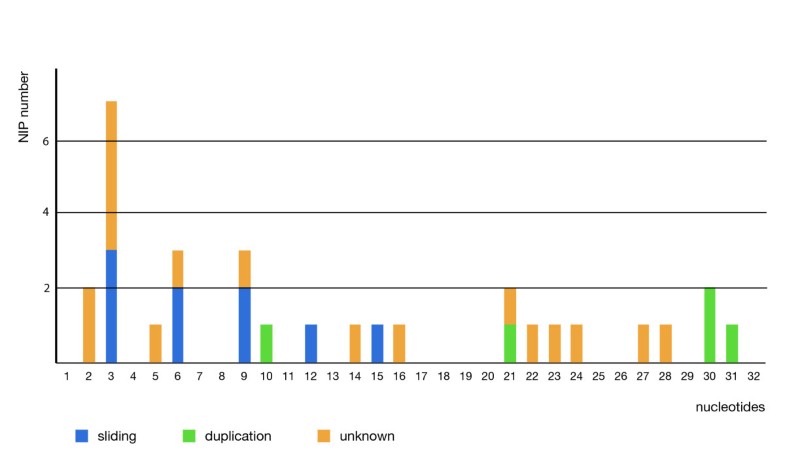 Abbreviations
CDS:

coding sequence
Der:

Drosophila erecta
Dgr:

Drosophila grimshawi
Dme:

Drosophila melanogaster
Dmo:

Drosophila mojavensis
Dpe:

Drosophila persimilis, Dps: Drosophila pseudoobscura
Dse:

Drosophila sechellia
Dsi:

Drosophila simulans
Dvi:

Drosophila virilis
Dwi:

Drosophila willistoni
FBgn:

FlyBase identifier number for genes
NIP:

near intron pair
nt:

nucleotide.
Declarations
Acknowledgements
We gratefully acknowledge the sequencing of the yet unpublished genomes of Daphnia pulex, Glossina morsitans, Ixodes scapularis, Pediculus humanus, and Culex pipiens. We thank the anonymous reviewers for their helpful suggestions. This work was supported by the Deutsche Forschungsgemeinschaft (KR2065/2-1/2 to VK and STA850/6-1/2 to PFS). The Deutsche Forschungsgemeinschaft had no role in the design or interpretation of the study.
Authors' Affiliations
(1)
Bioinformatics Group, Department of Computer Science, and Interdisciplinary Center for Bioinformatics, University of Leipzig, Leipzig, Germany
(2)
Genetics Group, Department of Biology II, University of Leipzig, Leipzig, Germany
(3)
Max Planck Institute for Mathematics in the Sciences, Leipzig, Germany
(4)
Fraunhofer Institute for Cell Therapy and Immunology, RNomics Group, Leipzig, Germany
(5)
Institute for Theoretical Chemistry, University of Vienna, Wien, Austria
(6)
Santa Fe Institute, Santa Fe, USA
Copyright
© Lehmann et al; licensee BioMed Central Ltd. 2010
This article is published under license to BioMed Central Ltd. This is an Open Access article distributed under the terms of the Creative Commons Attribution License (http://creativecommons.org/licenses/by/2.0), which permits unrestricted use, distribution, and reproduction in any medium, provided the original work is properly cited.