Research article

Open Access
Divergence of imprinted genes during mammalian evolution
BMC Evolutionary Biology
2010
10:116
Received: 24 November 2009
Accepted: 29 April 2010
Published: 29 April 2010
Abstract
Background
In contrast to the majority of mammalian genes, imprinted genes are monoallelically expressed with the choice of the active allele depending on its parental origin. Due to their special inheritance patterns, maternally and paternally expressed genes might be under different evolutionary pressure. Here, we aimed at assessing the evolutionary history of imprinted genes.
Results
In this study, we investigated the conservation of imprinted genes in vertebrate genomes and their exposition to natural selection. In a genome-wide comparison, orthologs of imprinted genes show a stronger divergence on cDNA and protein level in mammals. This pattern is most pronounced for maternally expressed genes in rodents in comparison to their non-rodent orthologs. The divergence is not attributable to increased mutation of CpG positions. It is contrasted by strong conservation of paternally expressed genes in mouse and rat. Interestingly, we found that the early divergence of imprinted genes was accompanied by an unusually strict conservation of their paralogs.
Conclusions
The apparent degeneration of maternally expressed genes may reflect a relaxation of selective pressure due to counteracting effects on maternal and embryonic fitness. Functional redundancy provided by the presence of highly conserved (non-imprinted) paralogs may have facilitated the divergence. Moreover, intensification of imprinting in modern rodents seems to have shifted the evolutionary fate of imprinted genes towards strong purifying selection.
Keywords
Duplication EventImprint GeneSynonymous SubstitutionMonoallelic ExpressionStrong Positive Selection
Background
Deciphering the evolution of eukaryotic genes is a key to understanding their function in different species. As nearly all mammals are diploid organisms, most of their genes are expressed from both parental alleles. Nevertheless, a number of genes do not obey this rule, notably so-called imprinted genes. They acquire specific epigenetic marks in the parental germ lines which are the cause of monoallelic expression after fertilization. Consequently, it depends on the parental origin which allele of an imprinted gene gets inactivated. Genomic imprinting has been observed in the endosperm of flowering plants and in the animal kingdom. In the latter, imprinted genes have so far only been discovered in therian species [1, 2]. Monoallelic expression may thus be evolutionary advantageous for particular functions. Based on the finding that genomic imprinting is a specific feature of species in which embryo and mother are in direct contact to each other, imprinted genes were hypothesized to regulate maternal nutrient supply during embryonic development. The kinship theory names the different interests of the parents in the wellbeing of the embryo as a possible evolutionary origin of imprinting [3]. According to this model, the mother aims at saving resources for subsequent pregnancies that are possibly fathered by different males, whereas the father is interested in the maximal exploitation of maternal resources in favor of his own offspring. This would result in a selective pressure towards silencing of growth promoting genes in the female germ line, and of growth suppressing genes in the male germ line. In both cases the result would be monoallelic expression of the respective genes after fertilization.
Due to their monoallelic silencing, imprinted genes might react differently on natural selection than biallelically expressed genes. In fact, their functional haploidy is reminiscent of the scenario for genes on the X chromosome, on which both positive and negative selection act more efficiently than on the autosomes (reviewed in [4]). Deleterious mutations affecting the expressed allele will be subject to selective elimination whereas beneficial ones would provide immediate advantages. On the other hand, the inactive allele may accumulate mutations that remain unexposed as long as the sex of the transmitting parent does not switch [5]. Imprinted genes have been supposed to play key roles in the mammalian embryo and placenta. Hence, evolution of imprinting and speciation of placental mammals might be linked. Evolution of imprinting might have subjected the affected genes to strong purifying selection, or might have triggered a strong positive selection towards species-specific functions. Fitting into the second scenario it has been reported that the evolution of imprinting of the MEDEA gene in Arabidopsis species might have been initiated by a duplication event and that the evolution of the imprinted duplicate was accompanied by strong positive selection [6]. Interestingly, also the evolution of mammalian imprinted genes was suggested to be influenced or even triggered by duplication events [7, 8].
Studies on a limited number of imprinted genes in mouse and rat did not provide evidence for conspicuous mutation rates or positive selection in the rodent lineage [9, 10]. Due to their functions as growth regulators, special attention has been paid to the imprinted genes Igf2 and Igf2r. Whereas DNA sequences that encode the interface region of the IGF2R and IGF2 proteins are highly conserved, the signal sequence of IGF2R that determines the protein's location in the cell is strikingly divergent between mouse and rat as well as between human and cow [9, 10]. Indication of positive selection on IGF2 in viviparous fish species that developed placenta-like structures suggests that evolutionary adaptations of growth factor encoding genes might predate their imprinting [11].
To date, about 90 imprinted genes have been identified in human and mouse [12, 13]. In order to assess their evolutionary history in placental mammals, we analyzed sequence conservation of maternally and paternally expressed genes and their paralogs in a genome-wide comparison. We show that the evolution of imprinted genes is characterized by an accelerated divergence at DNA and protein level in rodent ancestors. Moreover, the existence of paralogous genes seems to have facilitated divergence of imprinted genes.
Discussion
Divergence of imprinted genes in early eutherian evolution
Detailed genome-wide analyses on cDNA and protein level revealed an intriguing evolutionary pattern of imprinted genes. Compared to their (non-imprinted) chicken orthologs, imprinted genes show similar sequence identities and Ka/Ks distributions as all genes in the HomoloGene database. This suggests that in early mammals there was no specific evolutionary pressure on the protein-coding sequences of imprinted genes. In contrast, imprinted genes of mouse and rat show an elevated divergence of coding DNA sequences and proteins in comparison to their orthologs in other mammalian species, especially in the human, suggesting that there has been an increased divergence of imprinted genes in a common ancestor of mouse and rat. Although the reduced conservation was only significant for the rodent lineage, we cannot exclude that imprinted genes underwent a relaxation of selective constraints also in other species. The observed differences might be more pronounced in rodents due to their shorter generation times and effects of their larger population sizes [16]. One also has to keep in mind that the analysis of genes in species such as dog, cow, and chicken that have not been studied as long as human and mouse is hampered by a still low number and quality of available sequences.
In extant rodents, evolutionary processes seem to have shifted towards purifying selection. At present, murine imprinted genes are apparently under strong purifying selection as suggested by the reduction of SNPs. This pattern of evolution, i.e. an initial divergence followed by fixation, is believed to be typical for the evolution of new functions, for example of duplicated gene copies [28–30] or for the evolution of new species. Remarkably, the increased conservation in modern rodents coincides with a stricter conservation of typical DNA elements in imprinted genes in the mouse than in the human, such as intronic CpG islands [31].
Antagonistic feedback effects of maternally expressed genes
Interestingly, the increased divergence of imprinted genes affects mostly maternally expressed genes. Especially for rodents, the reduction of embryonic growth by genes expressed from the maternal alleles may have provided evolutionary advantages along with changes in placentation [32, 33]. Indeed, the maternally expressed genes Cdkn1c and Phlda2 that fulfill important functions in the mouse placenta have the highest Ka/Ks ratios of all imprinted genes. Thus, a possible explanation for the low conservation of maternally expressed genes might be the evolution of new functions in different lineages. However, the rather modest elevation of the Ka/Ks ratios argues rather for relaxed constraints than for positive selection.
An alternative scenario is the degeneration of (maternally expressed) growth repressors. These are likely to have different, counteracting effects on maternal and embryonic fitness: On the one hand a growth repressor might reduce the fitness of the embryo, on the other hand small embryos might increase the number of offspring. The counteracting effects on embryonic and maternal fitness should result in a reduced selective pressure on maternally expressed growth regulators, resulting in the observed relaxed conservation among mammalian species. Since there is no physical interaction between the embryo and the father, a similar effect of paternally expressed genes on paternal fitness is hardly conceivable. In support of this we found that the set of paternally expressed genes shows a similar or even higher level of conservation as the genome-wide background.
Paralogs may facilitate divergence of rodent imprinted genes
We did not find evidence that gene duplication events originating on the X chromosomes are a key factor in the evolution of imprinted genes as it has been suggested previously [8]. However, we cannot exclude that the duplication of a few genes on the X chromosome and their translocation to the autosomes might have initiated the evolution of imprinted genomic regions. Elements that initially regulated only imprinting of the duplicated genes may have strengthened and started to influence also the expression of neighboring genes. Interestingly, the six genes in our study that possess X-chromosomal paralogs are distributed over different imprinting domains, thus representing potential originators.
Although duplication events might not be directly linked to evolution of imprinted gene regulation, the existence of paralogs may have enabled a greater divergence of imprinted genes by relaxation of purifying selection. Genes that possess paralogs show evolutionary patterns that differ from those of singleton genes [
28
–
30
,
34
]. Notably, there is complementary divergence between pairs of paralogs, where imprinted genes seem to be concentrated in the group of the faster evolving duplicates (Figure
2
). The strong conservation of their non-imprinted paralogs suggests that these genes may have compensated for the divergence by maintaining the original functions of the ancestral genes.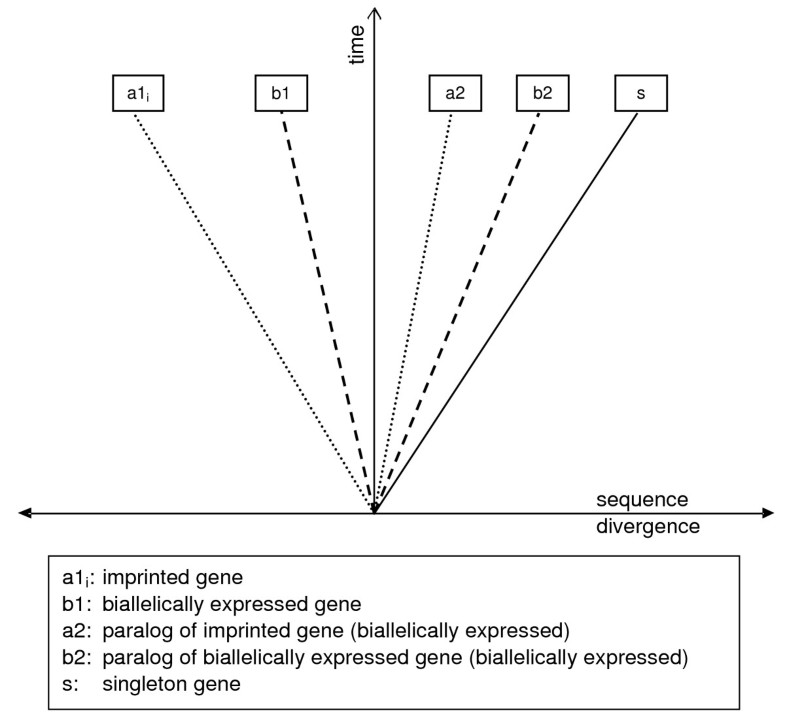 Conclusions
The evolutionary fate of maternally expressed genes appears to be influenced by antagonistic effects on maternal and embryonic fitness, resulting in a relaxation of selective pressure compared to biallelically expressed genes. The observed divergence of imprinted genes might have been compensated by a restrictive conservation of their paralogs. In most cases the duplication events predated the split of the fish and mammalian lineages and thus the evolution of imprinting. Long-lasting functional redundancy may have allowed genes that later became imprinted to specialize in functions related to placental and embryonic development. Apparent purifying selection on paternally expressed genes in modern rodents might be linked with the intensification of imprinting in species with a pronounced conflict over maternal resources.
Declarations
Acknowledgements
We thank Alexander Schömer for additional bioinformatics analyses. We highly appreciate the work of numerous sequencing and bioinformatics centers that made the data used in this study publicly available. This work was funded by the Deutsche Forschungsgemeinschaft (PA 750/3-1).
Authors' Affiliations
(1)
Lehrstuhl für Computational Biology, Universität des Saarlandes, Saarbrücken, Germany
(2)
Lehrstuhl für Genetik/Epigenetik, Universität des Saarlandes, Saarbrücken, Germany
Copyright
© Hutter et al; licensee BioMed Central Ltd. 2010
This article is published under license to BioMed Central Ltd. This is an Open Access article distributed under the terms of the Creative Commons Attribution License (http://creativecommons.org/licenses/by/2.0), which permits unrestricted use, distribution, and reproduction in any medium, provided the original work is properly cited.